Montreal
Please note: MP3s are only kept online for a short time, and if this entry is from more than a couple of weeks ago, the music probably won't be available to download any more.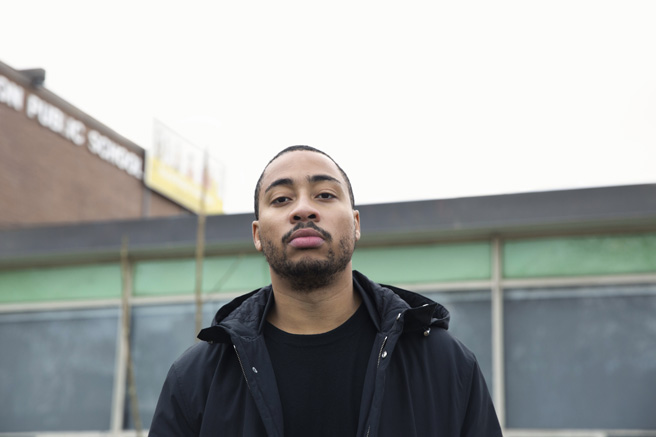 (photo by
Coey Kerr
)
Cadence Weapon - "My Crew(Woooo)" [Buy]
I've lived here in Montreal for over 10 years now.
I just want to ask people live in different cities about certain things happen/see here.
In your city/town, wherever you are, Do you see people commuting on unicycle? I often see that here.
Do you see people really into medieval things? I see that often.
How are the potholes in your city? Are they size of 18" Extra Large Pizza and can easily bathe small children?
Do you see racoon family eating poutine spilled on the ground late at night and when you take pictures with a flash, their eyes glow and look really awesome?
I've seen more things but the rest, I'll tell you another day.
Here is a video for this song.
Posted by Mitz at May 11, 2017 4:30 PM

Hey,
I have not seen anybody commuting on unicycles here in Hamburg. My stepsister used to have one, but they have gone out of style for a while, it seems.
But people ARE really into medieval things - there are huge fairs every once in a while and it is a glorious day to take the bus on those ones.
Pothole size varies from canholder size to the size of a small pond but usually they are not deep enough for bathing kids in them.
Never seen a racoon though, only rabbits and squirrels - lots of them. And we do not have poutine in Germany, but I am curious if I would like it.
Do you see dogs outside of shops and supermarkets waiting for their owner to return often? I never understand why they take them with them and then leave them outside. Dognapping is huge here at the moment - people are strange.
Have a good day!
Omg! Anna! Thank you! That is so interesting! Yes, we see people leave the dogs outside. Sometimes, I see dogs waiting for owner while the owner sips coffee inside which I feel bad for dogs! have a great day! so interesting to hear!
Here in Glasgow / Scotland.
I see a child going to high school everyday pedalling a unicycle with his dad walking next to him. Once arrived, the dad walks home with the unicycle. But if talking electric unicycle, I know at least 3 guys fast commuting to work with that.
There is definitely a medieval cult here but I do not coexist with it. I have seen medieval fighting classes in the Glasgow Uni and there is a blacksmiths club to learn how to make a sword from scratch.
Potholes are big enough to cook pasta for the family + neighbours in it. I do not reckon seeing a child bathing though. I will keep an eye on it. Sometimes they are deep enough to get in it and never come out again.
Raccoons are not in Scotland which sucks because they are awesome. We have fat squirrels, cute rabbits and cool foxes in the city. We have Poutine here too now but its kinda hipster and people don't waste it on the ground.
Now do you see drunk people put traffic cones on the head of public art sculptures in Montreal ?

WOW! Bertrand! Thank you for your info! Very interesting indeed!!!