Montreal
Please note: MP3s are only kept online for a short time, and if this entry is from more than a couple of weeks ago, the music probably won't be available to download any more.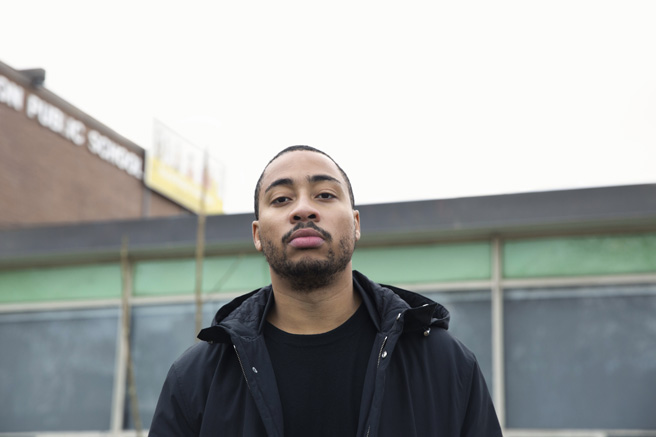 (photo by
Coey Kerr
)
Cadence Weapon - "My Crew(Woooo)" [Buy]
I've lived here in Montreal for over 10 years now.
I just want to ask people live in different cities about certain things happen/see here.
In your city/town, wherever you are, Do you see people commuting on unicycle? I often see that here.
Do you see people really into medieval things? I see that often.
How are the potholes in your city? Are they size of 18" Extra Large Pizza and can easily bathe small children?
Do you see racoon family eating poutine spilled on the ground late at night and when you take pictures with a flash, their eyes glow and look really awesome?
I've seen more things but the rest, I'll tell you another day.
Here is a video for this song.
Posted by Mitz at May 11, 2017 4:30 PM

Hey,
I have not seen anybody commuting on unicycles here in Hamburg. My stepsister used to have one, but they have gone out of style for a while, it seems.
But people ARE really into medieval things - there are huge fairs every once in a while and it is a glorious day to take the bus on those ones.
Pothole size varies from canholder size to the size of a small pond but usually they are not deep enough for bathing kids in them.
Never seen a racoon though, only rabbits and squirrels - lots of them. And we do not have poutine in Germany, but I am curious if I would like it.
Do you see dogs outside of shops and supermarkets waiting for their owner to return often? I never understand why they take them with them and then leave them outside. Dognapping is huge here at the moment - people are strange.
Have a good day!
Omg! Anna! Thank you! That is so interesting! Yes, we see people leave the dogs outside. Sometimes, I see dogs waiting for owner while the owner sips coffee inside which I feel bad for dogs! have a great day! so interesting to hear!
Here in Glasgow / Scotland.
I see a child going to high school everyday pedalling a unicycle with his dad walking next to him. Once arrived, the dad walks home with the unicycle. But if talking electric unicycle, I know at least 3 guys fast commuting to work with that.
There is definitely a medieval cult here but I do not coexist with it. I have seen medieval fighting classes in the Glasgow Uni and there is a blacksmiths club to learn how to make a sword from scratch.
Potholes are big enough to cook pasta for the family + neighbours in it. I do not reckon seeing a child bathing though. I will keep an eye on it. Sometimes they are deep enough to get in it and never come out again.
Raccoons are not in Scotland which sucks because they are awesome. We have fat squirrels, cute rabbits and cool foxes in the city. We have Poutine here too now but its kinda hipster and people don't waste it on the ground.
Now do you see drunk people put traffic cones on the head of public art sculptures in Montreal ?

WOW! Bertrand! Thank you for your info! Very interesting indeed!!!
Bar Harbor, Maine here. No unicycles in town, but Ezra travels all year round by Segway. In 1999, an 11-year-old on family vacation in Jamaica, he was in a car crash that broke his neck, then in a coma for many months, and doctors said he might never walk again. They were wrong; he's fought his way back to being upright, but he does have much trouble maneuvering. On a treadmill at the Y, where he goes a few dozen times every month, it takes him about an hour to cover one mile.
[http://www.mdislander.com/living/supernatural-take-stage]
Not much medieval, either, although 25 years or so ago Alan built a replica of a siege catapult (maybe 10 feet high?), which he used to take down to the shore and fire pumpkins out to sea. (He's been having trouble with his eyes lately, and can barely see, so it's probably good he's not using it any more.)
[http://www.mdislander.com/living/craft-fair-part-taste-bar-harbor]
We do have large potholes; maybe not regular sized-children, but cats or dachshunds could bathe in many of them. Made worse by the ice and snow of winter and the lack of interest stupid bureaucrats have in maintaining infrastructure. (Like if we ignore them, maybe they will go away?)
A raccoon walked across the yard three days ago, on its way to somewhere. He – or she – didn't say. (No spilled poutine in the yard, as far as I could tell.) That was kind of unusual – more often, we see wild turkeys and deer.
Keep writing such interesting stuff...
Thank you RPS. Very inspirational story about Ezra! Thank you for sharing!
Not much medieval, either...
I spoke too soon. Just yesterday I was driving by a gospel church and saw a sign advertising a medieval fair tomorrow on the other side of the island.
https://www.facebook.com/events/1868456146704276/
First one I've noticed in this area; I hope they're not planning on taking us back to the time of the Crusades.