Asian grocery store.
Please note: MP3s are only kept online for a short time, and if this entry is from more than a couple of weeks ago, the music probably won't be available to download any more.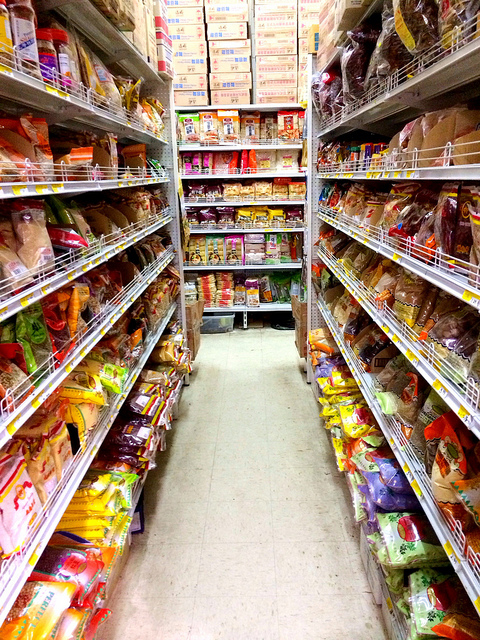 (
photo source
)
I was at this asian grocery store where I usually shop. I often see people who want to try out "exotic" recipes. I don't know it was because they saw Anthony Bourdain Layover or another show like Mind of a Chef on netflix. Don't get me wrong here. I like seeing people trying out new things in any format and I, myself, try out new things like oatmeal. I tasted like a baby puke but I appreciate it. I appreciate anther culture.
Once, I knocked over cans of coconut milk, and I was putting them back in the shelf. Some nice elderly lady asked me, "Which miso should I get? I'm trying to make miso soup." I understood the situation in 1 second that I looked like I worked there. I stood up and led her to the next aisle where several brands of miso are. "please follow me. it's in the next aisle."
"so there are several kinds of miso as you can see. Dark to medium to light miso. Each one is different. Is this your first time making miso soup?"
"Yes, my daughter made me once and I loved it!" she replied with big smile like Aphex Twin album cover.
"I would recommend this light miso to start with." I replied with smize of Tyra Banks.
"You also need something like bonito flake or kombu to make a stock with it." I continued.
"there is a bonito powder right here. This is a good start. If you wanna go all the way, next time, perhaps you can try making stock from scratch but I often use these powder bonito stocks and they are good" I continued with smiley face emoji in my mind.
"oh.oh...oh. thank you!" She said it like the end of the speech to finish the conversation. But I didn't get it. I was just excited that this lady was trying miso soup for the first time.
"You also want to get some seaweed. These dried seaweed are good. You can put a lot of things like shiitake, daikon, These dried goods are good...." as I turned around she was gone.
I stood there with dried good in my arms alone in this aisle like Will Smith in the movie, "I am Legend" in the apocalyptic world.
Happy holidays.
Posted by Mitz at December 16, 2015 3:15 PM