BEST SONGS OF 2020
Please note: MP3s are only kept online for a short time, and if this entry is from more than a couple of weeks ago, the music probably won't be available to download any more.
These are my 100 favourite songs of 2020: songs I love more than solitude, take-out and the immune-responses of bats.
What a hell year. What a nightmare. What an endless shit parade. 2020 was a fuckin Grand Canyon of Wretchedness and yet, and yet, it was also suffused with a sense of resilience: the sense of coming-through. We have lived inside an avalanche. We have sunk to the bottom of the sea. We have survived isolation and deprivation and loneliness and loss; we have ordered deliveries; we have strived; we have applied alcohol to our hands. We have come this far and promise me we will keep on going somehow, in kindness and in solidarity, with songs on our lips.
Said the Gramophone is an old blog and we publish rarely. Early in this year's pandemic, as monotony and worry unfurled, I began posting again. Then I stopped. I am OK, I'm writing, I'm caring for myself and everyone I can. But life got very small and it's going to stay small, I suspect, for a little while.
Except in music: in music, as in dream, there is no such thing as quarantine.
This here is the 16th list like this at Said the Gramophone: see 2005, 2006, 2007, 2008, 2009, 2010, 2011, 2012, 2013, 2014, 2015, 2016, 2017, 2018 and 2019. I follow just one arbitrary rule: that no primary artist may appear twice.
The best way to browse the proceeding is to click the little arrow beside each song and then to listen as you read. The things you like you can then download by right- or ctrl-clicking with your mouse.
You can also download the complete 100 songs in three parts:
I have also created
a Spotify playlist
for these tunes. (
Update:
And
Apple Music
. Thanks Joey!) However,
please pay for the music you enjoy.
Giving money to Spotify is
insufficient
;
Bandcamp
is much better.
#


This list is the work of me, Sean, and not any of Said the Gramophone's other contributors. Don't blame them for my questionable taste.
If this is your first time at Said the Gramophone, I hope you'll bookmark us or subscribe via RSS. You can also follow me on Twitter.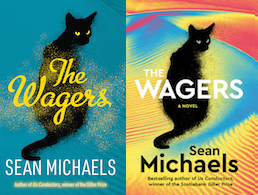 Please read my books! I'm the author of two novels—Us Conductors, from 2014, which reimagines the story of the theremin, and The Wagers, a novel about luck, which was recently optioned by Hulu. The Globe & Mail called The Wagers "a literary fireworks display, an explosion of joke-filled energy that manages to be a novel of ideas, but one delivered as if it were a caper story." You can learn about both of these books (and get them in print/ebook/audiobook form) at my author website.
Among the 100 acts below, 39 are generally American, 27 are Canadian, 14 are British and there are five Nigerian, four South African, three Australian, two Norwegian, one German, one Tanzanian, one Argentinian, one Portuguese, one Danish and one Kiwi artist. 51 of the frontpeople/bandleaders are men, 48 are women, and at least one artist is non-binary. This is the way it worked out; it certainly ain't perfect. Here are some charts of this and past lists' demographics.
My favourite songs of the year do not necessarily speak to my favourite albums of the year. Songs and LPs are entirely different creatures.
My favourite albums of 2020 were:

I promise: all of these are fantastic.
Now, without any more rigamarole, lots of proudly mixed metaphors:

(original image by Shanti Shea An)
Fin,
for another year.
Thanks for reading, sorry for the broken links, please support these artists with your money. (Invest in what's important or it will go away.) Be kind to each other, take care, be brave, undo what harm you can. Whenever you're sad, my smallest advice is: let some music into the air.
Love,
Sean
Posted by Sean at December 14, 2020 8:08 AM