BETTER FOLLOW ME
Please note: MP3s are only kept online for a short time, and if this entry is from more than a couple of weeks ago, the music probably won't be available to download any more.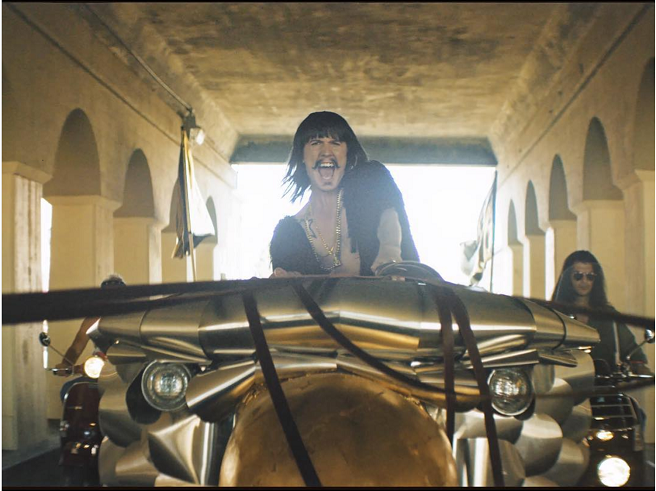 "Downtown" - Macklemore & Ryan Lewis (feat. Eric Nally, Melle Mel, Kool Moe Dee, and Grandmaster Caz)
"Downtown" is two songs jammed together. "Downtown" sounds as if it has always existed. It's like a hazy memory from another time, indistinct. It begins with Ryan Lewis's re-creation of old-school hip-hop, referencing the early-1980s Sugar Hill records catalogue, and featuring three heavyweights of the era throwing down verses in unison. The song rolls along at the typical Macklemorian pace, a picaresque about buying a moped and his subsequent adventures. It's a new page from the "Thrift Store" playbook, part of an indistinct genre of kid-friendly funk music, spanning everything from the Electric Company's "Easy Reader" to Was (Not Was)'s 1988 hit "Walk the Dinosaur" and last year's Bruno Mars-fronted Mark Ronson hit "Uptown Funk," which I last heard sung by a group of pre-teens walking down my back alley a few days ago.
But the song transforms into something rarer near the two-minute mark, where an homage to Grandmaster Flash's "Rock the Bells" Wild Style routine gives way to a Nile Rodgers's lick and a strangely compelling voice belting out "Downtown! Downtown! Dowwwwwwwwwwwwwnntowwwn!" Thus begins the chorus, which seems part of another song entirely, taking a sharp left turn out of the Boogie Down Bronx and into Transsexual Transylvania. From here, late seventies Meat Loaf- or Queen-style piano and ballad vocals float over a mid-tempo marching band rhythm, horns, and chanting backing singers before settling into an arena rock banger. Things get anthemic. It's catchy as hell.
The voice belongs to Eric Nally, whose circus-y glam rock band Foxy Shazam were road warriors for the last decade. Nally absolutely steals this song. He has the pop star's effortless ability to sing trivial lyrics with total conviction and pathos, alchemically creating something catchy and powerful. Nally has been compared to Freddie Mercury, and in the video for this song he wears tight-ass jeans, a moustache, and looks fucking great in a leather cap. But while his voice gestures to Mercury's street-fighting tenor, it is lighter, soaring over the song - at times channeling Off the Wall-era Michael. These and other classic rock references come across on repeated listening but really Nally is unique, particularly on Top 40 radio today. A voice like this could only have originated in the underground rock scene, whose embarrassment of riches rarely crosses over into mainstream culture.
[buy]
Posted by Jeff at September 8, 2015 11:27 AM