Food for memories.
Please note: MP3s are only kept online for a short time, and if this entry is from more than a couple of weeks ago, the music probably won't be available to download any more.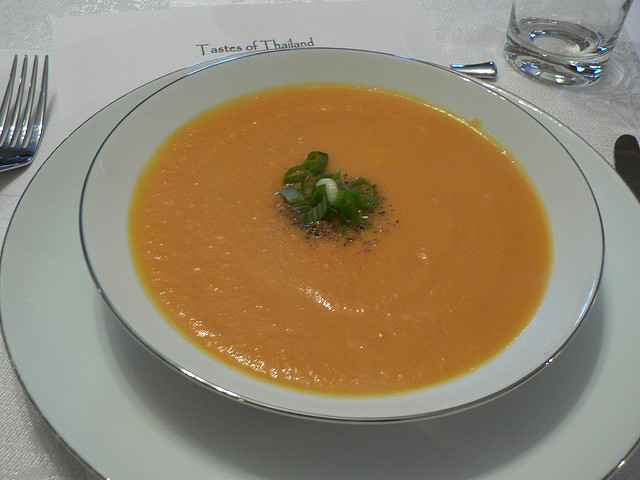 (
photo source
)
Altyrone Deno Brown - "Sweet Pea" [Buy]
I eat anything. I can eat anything. I mean I don't really have any food that I hate.
There is certain food like oatmeal which I never grew up eating it so it looks and tastes like a baby puke. but I still can eat it.
Black licorice which tastes and looks like a cyborg/robot cop shit but I can still eat it.
Only thing I can think of is pumpkin.
when I was a kid, somehow I hated pumpkin. I just couldn't eat it even though I could eat natto(formented soybeans). I guess it's how you grow up.
I hated pumpkin like Vampires hate garlic or Kanye West hates Jay-Z now.
One day, my mom made a soup for dinner. Really nice soup and I was loving it like I just got Nintendo 64 for Christmas.
My mom asked me, "How is it?" with a big smile on her face.
"AWESOME! This is the best soup!!!" I answered with even bigger smile.
My mom kept smiling and it turned into an evil smirk like a 'Pharma Bro' Martin Shkreli. Maybe not that evil but I noticed.
She waited til I was almost done and couldn't wait til annouce.
"It's a pumpkin soup!!!!!" she said it like a Youtube prankster.
"OMG!!!!!" I felt sick all of sudden just the thought of me eating pumpkin even though it was great soup.
"you got punked!!" my brother was laughing and my mom followed him, "right? it's not so bad. You almost ate all of it!"
I didn't trust my family for about a day or two.
Posted by Mitz at November 22, 2016 10:59 AM