Long Story about Mower
Please note: MP3s are only kept online for a short time, and if this entry is from more than a couple of weeks ago, the music probably won't be available to download any more.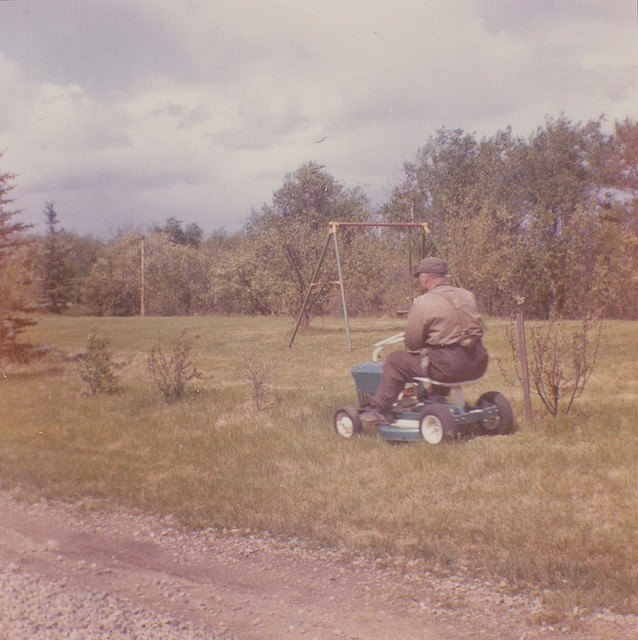 (
photo source
)
Soft Opening - "Ride-On Mower" [Buy]
During summer break when I was Grade 10, I volunteered for a local history museum for school credits. It's a small town history museum ran by mostly volunteers. I met very nice people and they fed me a lot of home made cookies. It was really interesting to see old photos and I kept asking questions. At first, they were answering all of my questions but I think they got little annoyed and they told me, "ohhh long story."
My first task was to paint the old fire truck parked outside. They wanted it to be painted green like a grass color. It was a big job by myself. Initially, I was taking time painting very nicely like Bob Ross but I realized it would take me weeks to finish with second coat. So I sped up and painted fast. It was like speed-walking but painting. It probably also looked funny like speed-walker too. Speed-walkers look like they are looking for a bathroom but no one wants you to realize that. Every time, I see speed-walking in Olympics, there is a voice in my head, "oh shit, oh shit oh shit. where is the bathroom. I need to peeeeee."
(suggestion to IOC, there should be another event for Olympians to perform when they really need to pee.)
So I painted really fast. I was almost finishing up and then, I knocked over the green paint bucket on the grass. "oh man! I need to clean that up, otherwise, they think I'm a clumsy kid and they don't bring any more cookies for me!" I thought. But I was lucky that they wanted the truck to be painted green. The spilled green paint blended into the grass. I didn't even need to clean the paint....I thought.
I told them I finished the truck and they were quite happy with the result. I didn't tell them about the spilled paint since no one could see them.
"good job! Alright, next task is to mow the lawn!" the lady in charge told me.
I thought to myself, "hmmm, I wonder what happens if I mow over the paint and grass."
I just thought it would be ok. Maybe little sticky.
I did underestimate the power of mower they had. I don't know how many horse power it had but it was enough to splash some of green paints over my face and my clothes.
After I finished, I looked like avator or blue man group except i was green. or I guess just simply green screen guy.
"oh, what happened!?" the lady asked me.
"ohhhhh long story." I told her.
Posted by Mitz at January 13, 2016 7:32 PM