OI! OI!
Please note: MP3s are only kept online for a short time, and if this entry is from more than a couple of weeks ago, the music probably won't be available to download any more.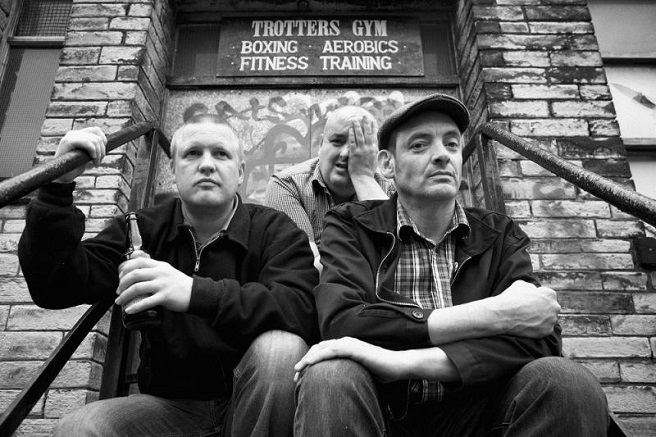 Hard Skin - "Skinhead" [buy]
Hard Skin - "Council Estate" [buy]
Until I heard Hard Skin, the sum of my knowledge of Oi was limited to two Cock Sparrer songs, the few sets I caught by excellent Montreal skins Jeunesse Apatride, and a Sham 69 song I heard on a mixtape when I was a sixteen. Since then I've listened to some early Blitz and been obsessed with French Oi-revivalists Rixe, but on the whole I still know practically nothing about the genre.
But I friggin' love Hard Skin. Repping for their London neighbourhood of Gipsy Hill, they've written four albums and a bunch of singles of catchy skinhead anthems delivered in a furious cockney growl. Firmly mid-tempo, with giant guitar leads, Hard Skin's songs rescue the golden age of working-class rock n roll from the dustbin of history. Hard Skin play into the proudest traditions of the sub-genre: celebrating boozing at the pub, glory days and lost friends, and endlessly slag off the coppers in songs with ominous football hooligan gang vocals.
And if this all sounds tough as hell, there's also a self-mocking, tongue-in-cheek character at the heart of their songs. They're not necessarily joking, but they're not entirely serious either. And it's the black humour of their approach that makes these songs about the bleak conditions of life in working-class England (is a Brexit concept album forthcoming? we can only hope) get under your skin.
Hard Skin make two rare appearances in Canada this week. They play Ottawa on Thursday, March 16 and Montreal at the Oi! St. Patrick's Weekend, this Saturday, March 18 at Katacombes (1635 St. Laurent). More info here.
Posted by Jeff at March 14, 2017 5:40 PM