OUT OF TIME
Please note: MP3s are only kept online for a short time, and if this entry is from more than a couple of weeks ago, the music probably won't be available to download any more.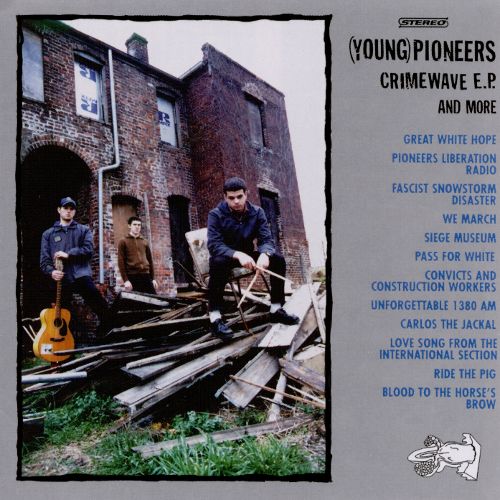 (Young) Pioneers - "Great White Hope"
(Young) Pioneers - "Love Song from the International Section"
(Young) Pioneers - "Fuck the Labor Pool"
(Young) Pioneers - "Joy Kills Sorrow"
Three men in hoodies and nylon jackets standing amidst a pile of construction waste in front of a dilapidated house, looking utterly serious. This photo, on the cover of the (Young) Pioneers's Crimewave ten inch, was like a compass for me when I was eighteen. This was the life for me - standing in a semi-desolate urban waste space, surrounded by decaying brick buildings. Why??
It might have something to do with buying that record after seeing the Marxist rockabilly DIY punk band play at a hardcore fest in a VFW hall on the outskirts of Detroit near the end of the twentieth century. On stage they wore matching red button-up shirts and black jeans and performed in front of four flags that they'd hung on the wall. What were those flags? I don't know - likely they belonged to collapsed people's republics. As every other band at the fest was veering towards some shade of emo, the (Young) Pioneers, featuring half the final line-up of Born Against, were headed straight in the opposite direction. They were drawing from the Minutemen playbook and rockabilly and the ghosts of Appalachian country music but filtered through the distortion and grit of their hardcore lineage.
Their lyrics offer up a whole world in miniature, where scarce employment and bad choices lead to narrow possibilities. Their songs map a geography of freeways, prison cells, blood banks, empty buildings, and the oppressive tools of capital, the labour pool, the employer's blacklist. But there are glimpses of life behind the Marxist front. Broken relationships are dissected, dead dogs memorialized, letters are written to loved ones.
As re-issue fever reaches the late 1990s some label could do a lot worse than releasing the eighty-plus songs records by the (Young) Pioneers in a box set, complete with a 20,000 word essay re-evaluating the band and the times they were part of, but it's unlikely it will happen. This was a band that proudly never fit. They were a band out of time - die-hard socialists in Bill Clinton's post-history America, singing spiky short songs about class and brushes with the law when anthems about feelings with massively earnest rock leads were the order of the day. But their songs still sound as alive as they did at the beginning of the Internet, a band that knew they were swimming against the tide of history at every turn, but gave it their all.
Posted by Jeff at April 12, 2017 12:16 AM