PUNK SCRAPBOOK 2016
Please note: MP3s are only kept online for a short time, and if this entry is from more than a couple of weeks ago, the music probably won't be available to download any more.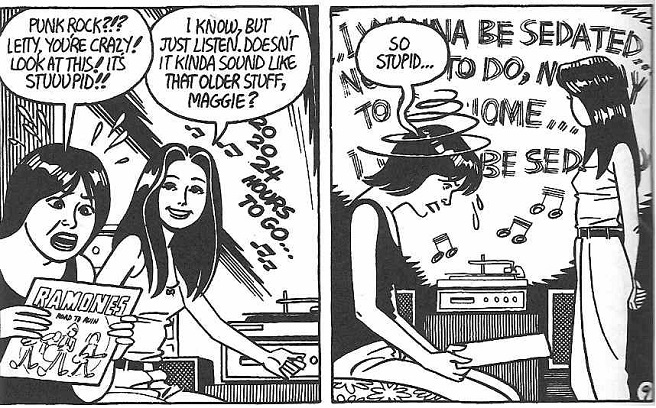 (Letty changing Maggie's life forever in Jaime Hernandez's Love and Rockets)
Happy New Year everyone, it's 2017! But I'm still looking back for now. Here are 30 amazing punk songs from 2016. They're not ranked and I won't make any claims about them being "the best," but I love them all. (The 2015 list is still great, too!)
I define punk broadly, loud or quiet, big or small, super weird or not so weird. For me it's about a relationship to the politics of community and DIY, more of a feeling than a label.
On the list there's hardcore, power-pop, post-punk, garage, doom, twee, etc.. etc. I hope you like these songs. They are in turns discordant, melodic, rocking, and quiet. They're happy, sad, angry, political, personal, necessary. If one song isn't your cup of tea, skip ahead and you might love the next one.
Here's to lots of amazing live shows in 2017. Support touring bands and those in your town, support small venues, buy shirts and seven inches and mp3s. Support the scene, always and forever.
Love, Jeff
--
Anxiety - "Delayed" [buy]
Like the best bands of recent years, Anxiety's songs are inventive and weird. "Delayed" travels from moody art-damaged guitars straight into the maw of jittery blown-out hardcore.
Barcelona - "Caudillo / Infierno De Cobardes" [buy]
The A side of Barcelona's new 7 inch is technically two songs, but the whole thing comes in under 3 minutes so I'll count it as one. On "Caudillo" the rhythm section locks in and punches you in the gut over and over. "Infierno De Cobardes" picks up the pace and is the best circle pit song of the year.
Big Eyes - "Leave this Town" [buy]
Kait Eldridge fuses glorious riffs with the most heartfelt lyrics in every song she writes. The jangly power pop of "Leave This Town" is perfect for a summer roadtrip soundtrack.
Big Knife Little Knife - "Anarchist Calisthenics" [buy]
Montreal's BKLK deliver a frenetic blast of mathy late-90s post-HC into the cold wastes of post-everything 2016.
CC Dust - "Never Going to Die" [buy]
Mary Jane from Vexx goes electro. In my mind this life-affirming dance song soundtracks a montage of disaffected teens out late at night, in love with the world and tearing up the town.
Dag Nasty - "Cold Heart" [buy]
Who could have guessed that these DC vets would have this much fire in their bellies thirty years later? New / old singer Shawn Brown remains one of the most consistently great voices in hardcore.
Dauðyflin - "Drepa Drepa" [buy]
Feel the rage of the north! Iceland's recent volcanic activity has produced a stream of lava-hot punk bands (see also Roht). Dauðyflin harness the feedback wave and the results are startling.
Frankie Cosmos - "If I had a Dog" [buy]
This song is about possibility. What if I had a dog? What if jerks stopped bugging me about how I looked? What if I wrote a minute-long song that put these things together? Brevity = brilliance.
GLOSS - "Give Violence a Chance" [buy]
Another shredding call-to-action from these Olympia ragers. GLOSS may have been short-lived, but their influence will be felt far and wide in the coming years.
Good Throb - "Slick Dicks" [buy]
Bass squarely in the front, Good Throb are smuggling the best ideas of post punk into hardcore.
In School - "Bloodlust" [buy]
Total beast of a track from America's angriest graduate students.
Janitor Scum - "Shopping Cart (live)" [buy]
It came from Calgary! A weird hardcore salute to the abundant joys of supermarkets.
JJ Doll - "No One" [buy]
Most surprising new vocalist! Former Ivy members bring the noise and the vocals are pure joy, even as the lyrics excoriate.
Lumpy and the Dumpers - "I'm Going to Move to New York" [buy]
A revenge cut from every townie that refused to leave their small scene for the bright lights of the big city. Lumpy's vocals in the breakdown crack me up every time.
Lysol - "Ill" [buy]
Best performance at Brasserie Beaubien this year? These Seattle garage brats have all the swagger of their Emerald City forebears Death Wish Kids and the Murder City Devils. Suburban switchblade styles.
Nancy Pants - "Take" [buy]
Nancy Pants songs have the same lived-in feeling as every great Teen Beat record. Breezy but full of grit, the soundtrack to excellent conversations.
Neurosis - "Broken Ground" [buy]
I don't have a Times of Grace tattoo on my forehead for nothing, okay?
Not You - "haha" [buy]
Perfect mid-tempo grunge with haunting vocals the way only Haligonians can.
Nots - "Inherently Low" [buy]
New Wave stomp. On their second LP Nots built out their short sharp ragers into moody downbeat party-rockers, with a tinge of melancholy.
Primetime - "Pervert" [buy]
Primetime send us funny, sassy, and totally nonchalant postcards from the workaday world. "Pervert" feels like an answer song to "Orgasm Addict" lost in the mail for forty years.
Pup - "Sleep in the Heat" [buy]
Pup have logged thousands of clicks on the Trans Canada and "Sleep in the Heat" captures the contagious energy of small town shows in places that that don't get many touring bands.
Sheer Mag - "Can't Stop Fighting" [buy]
An anthem of resolute determination. Sheer Mag nails it on this cut, the riffs are sharp, the beat is hot, the vocals are fire. To the barricades!
Surveillance - "Life" [buy]
NSCAD kids recreate an installation of Stereo Mountain circa 1992 for their grad show at Anna Leonowens.
Tacocat - "Men Explain Things to Me" [buy]
If there was a musical based on Rebecca Solnit's essential feminist essay this would be the hooky crossover hit.
Tender Defender - "Hello Dirt" [buy]
Anthemic workout track of the year. I'm guessing at least half of the bearded old punks at the gym have this on their playlists.
Tenement - "Witches in a Ritual" [buy]
Tenement are a soul band now, and that's fine by me. Groovy as all hell "Witches in a Ritual" is the art punk jam of the year.
Tyrannamen - "I Cant Read Your Mind" [buy]
This song fits like a perfectly worn-in jean jacket. Blue-eyed pub rock from down under, to listen to when things go sideways.
Vanity - "Don't Be Shy" [buy]
Hey, hey rock and roll. Caffeinated boogie rock with a tinge of British guitar to keep you interested.
Warthog - "Culture?"[buy]
A perfect mid-tempo hardcore song, complete with singable riffs, and -- shockingly -- a few full-band work outs towards the end. Also the record cover features the most stoked skull of 2016!
Weaves - "Shithole" [buy]
Jasmyn Burke's distinctive vocals soar over a noisy art guitar stomp. Weaves leave a massive sonic footprint.

Posted by Jeff at January 2, 2017 9:10 PM