Said the Guests: Rachell Sumpter
by Sean
Please note: MP3s are only kept online for a short time, and if this entry is from more than a couple of weeks ago, the music probably won't be available to download any more.
Rachell Sumpter is an artist and when I saw her work for the first time, I didn't think "Ooh, that's pretty." No - her painting startled me. I felt something jolt; I don't know what. Something.
I explored her paintings in silence. I imagined them on a wall in LA, little pieces of paper on a big wall, and these figures on them. Bright colours, but so soft. Figures crouching or kneeling, standing or lying down. Figures that might be sad or in love or terrified, terrified, riding sharks or posing proud on polar bears. Somehow I recognised the images, recognised the silence and the colour and the way the figures - the Inuit - stood together. I'll often forget about a dream and then remember it as true. But these small paintings, these scenes of jellyfish and weaponry and quiet purpose, I think they must be things that are true but that I'm remembering as dream.
Every weekday, we at Said the Gramophone try to paint in words what we hear in the songs we love. Sometimes we invite guests - musicians, critics - to do the same. And sometimes we invite artists. But we ask the artists to paint not in words but to paint in paint. Or in ink, or in pixels.
Rachell Sumpter has painted in paint. These are three paintings for three songs, three songs that seem still but underneath are moving. Like the sea can be. Or the ice. Or a human face.
Rachell's work humbles my own chickenscratchings. I'm honoured that she agreed to do something for us. See more work at her website, SixSpace, or at the Motel Gallery in Portland, where these three paintings also appear. If you can, go see them in pulp-and-dye: I wish I could.
Rachell - thank-you.
-- Sean
Cat Power - "The Party"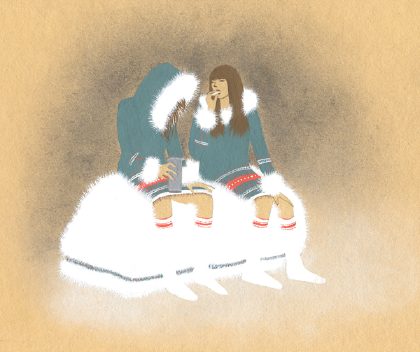 Rachell Sumpter - "Settle Down Seahorse" (click for full size) "Melancholy memories and thankfully wasted time."
Smog - "The Well"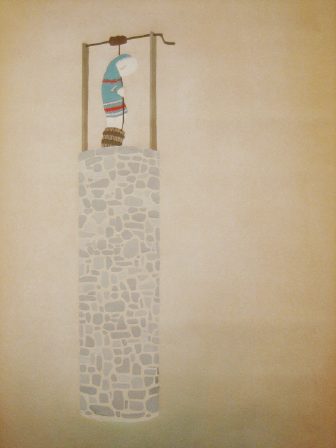 Rachell Sumpter - "Thirsty Man" (click for full size) "Summertime in the sticks, letting it all slide away."
Silver Jews - "Horse Leg Swatikas"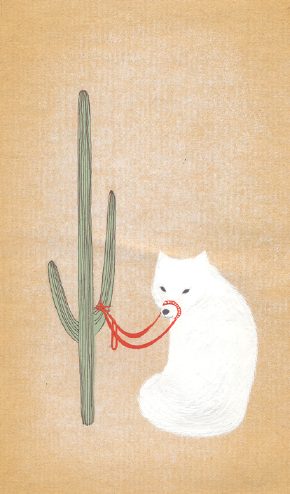 Rachell Sumpter - "Hazing" (click for full size) "Some things are very complicated."
[Rachell Sumpter lives in California. These images are currently on exhibit at the Motel Gallery in Portland OR. You can also see more of Rachell's work at www.rachellsumpter.com.]

(Previous guest-blogs, in and out of the Said the Guests series: Hello Saferide, Edward Droste (Grizzly Bear), Will Sheff (Okkervil River), Devin Davis, Michael Nau (Page France), artist Tim Moore, Carl Wilson, artist Drew Heffron, David Barclay (The Diskettes), artist Katy Horan, Brian Michael Roff, Howard Bilerman (producer: Silver Mt. Zion, Arcade Fire, etc.), Damon Krukowski (Damon & Naomi). There are many more to come.)
Posted by Sean at January 18, 2006 3:00 AM