Stranger Family Dinner Things
Please note: MP3s are only kept online for a short time, and if this entry is from more than a couple of weeks ago, the music probably won't be available to download any more.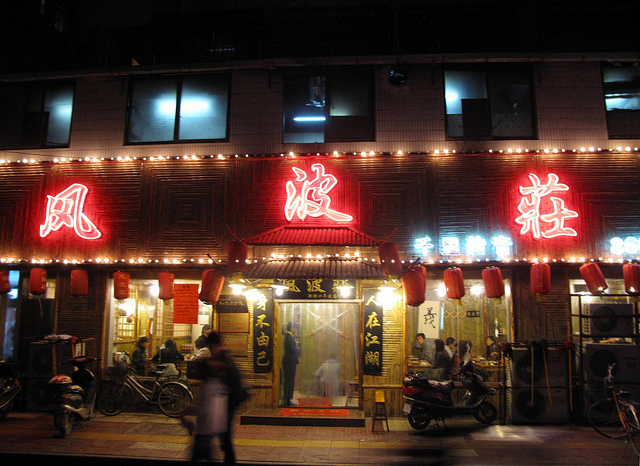 (
photo source
)
t-shirt - "Faceless" [Bandcamp]
I went to this restaurant in Chinatown, here in Montreal. It's a busy place specializes in noodle soup. They have too many seats for tiny space which people have to walk like Michael Jackson dancing on stage smoothly sideways across the restaurant.
I waited and a table of 4 are leaving. At that moment, I was wondering what is going to happen since there was a young guy before me alone, myself and a party of two behind me and an older guy and another guy.
The waiter said I can sit there and share the table with strangers which I had no problem.
In order of the line up, it would be first guy, myself and a couple but a couple didnt follow us. They didnt want to share the table with me and the first guy. No problem at all. Maybe they are on the first Tinder date. Understandable.
So other two guys took the couple's spot. Now we filled our table of four.
Young University age guy, Myself(35 years who enjoys soft serve ice cream), older guy who could be a dad for any of us at the table, another guy, maybe could be late 30's or early 40's.
The thing about this restaurant is that its so small! It's like Micro House trend featured on Apartment Therapy and the table itself seemed really small.
Funny thing is that we ordered same dish Medium beef noodle soup spicey. I was the second one so I felt insecure that I copied the first guy's order but when the rest of us ordered the same, we had this, "yep, we, asians know what this restaurant about" look in our eyes.
Dishes came in 3 minutes later or length of average youtube fail cook show videos. amazing.
well, in Asia, we slurp noodles. But here in North America, it is considered rude or something dumb.
But four of us, as a family, Dad and three siblings of total strangers who we haven't talked to each other yet. We just slurped so hard. Well, not hard but just to enjoy like it is.
Sing like no one is listening, Dance like no one is watching, Slurp noodles like no one is giving a fuck.
yum yum yummmmm! hmmm hmmm hmmmm! But we are eating noodles 10" away from each other. sometimes, elbows hit.
Youngest brother(at this point, in my mind, I was calling him the youngest brother), pulled out his phone, maybe, he felt uncomfortable, or he eats with his phone out all the time. Not sure. Dad glanced but didn't stare. "Kids, these days, can't even enjoy the family dinner without distractions." Maybe he thought.
We kept slurping noodles like there is no tomorrow like Trump would won the election and polar bears died and there was no sequel to BBC Planet Earth 2.
Sometimes, noodle soup fly, my slurping was power 98, speed 99, so I made a little mess and some soup landed close to my younger brother's phone. The rest of us glanced and maybe I saw them smile tiny bit.
I said sorry quietly to my younger bro.
This point, dad finished soup and he was using tooth pick so loud making Darth Vader noise as he cleans his teeth. Older brother finished second and he was already going somewhere. well, he is going to hang out with his cool friends I thought.
I had to leave too so I stood up and I said, "goodbye and nice meeting you" in my mind to my stranger family whom never talked to.
Good luck America today
Posted by Mitz at November 8, 2016 2:06 PM