THE MOUNTAIN PATH
Please note: MP3s are only kept online for a short time, and if this entry is from more than a couple of weeks ago, the music probably won't be available to download any more.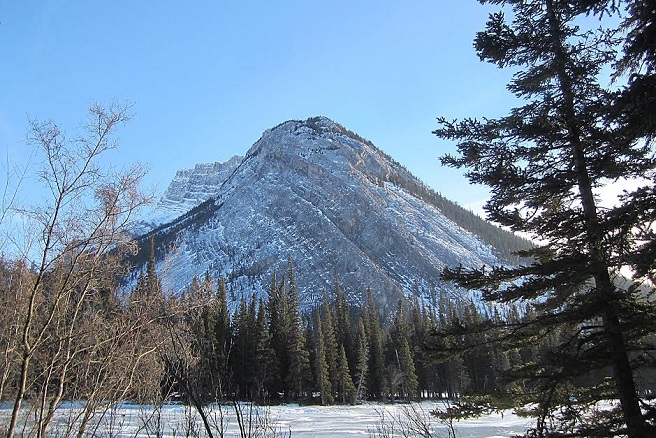 Black Mountain - "Don't Run Our Hearts Around" [buy]
The mountain path was narrow and it had been days since Lin had seen a fellow traveller. Barnabas, loaded down with her few possessions, was growing tired. His tail was drooping, and his paws were sore. There was no food for him on this narrow trail.
Together they moved forward along the thin edge, always hoping that around each corner the path would lead down into the valley, or open into a plateau where they could both rest. They were exhausted after hours of walking on slate and knowing that any lapse in concentration might bring about a long fall into nothingness.
Barnabas stopped, noticing a vulture wheeling high above them, effortlessly riding the wind.
Lin tugged on his harness, and spoke quietly into his raised ear. "Come Barnabas, that bird will not make a meal of us today." Lin's voice cracked as she talked. She found her waterskin and drank from it freely. She had been refilling it along the way from the freshets of meltwater that ran down the mountain rocks.
Lin poured water into a small bowl, which Barnabas lapped quickly. "There you go," she said. Then she reminded him "We have many days of walking ahead of us. We can't slow down. Mica's life depends on this." Barnabas dipped his head in understanding and Lin patted him between the eyes.
But as she turned to start walking she felt something, an unexpected weight pulling at her. It was as if an invisible hand was pushing her off the cliff face. She tried to steady herself but couldn't resist the force. In a moment she was leaning sideways and then falling from the mountain.
Barnabas howled. In a second Lin disappeared from his view as she plunged into the unknown.
Posted by Jeff at January 10, 2017 6:11 PM