THE MOUNTAIN PATH III
Please note: MP3s are only kept online for a short time, and if this entry is from more than a couple of weeks ago, the music probably won't be available to download any more.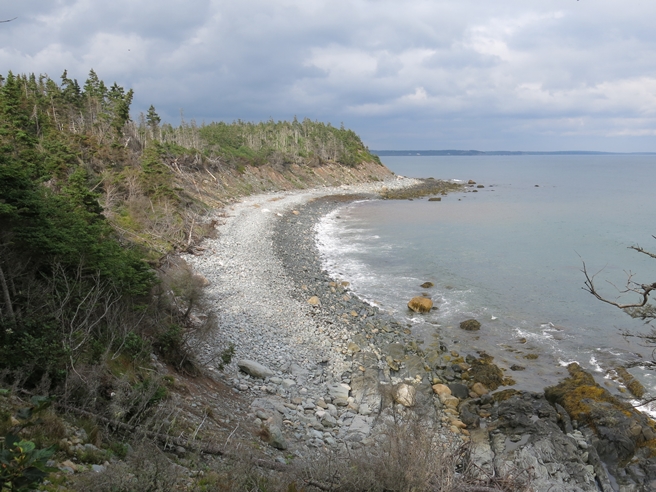 (Read part one and two here and here)
Lin came to in a tangle of rope. She could hear the waves crashing on the shore and smelled salt in the air. For a moment she thought this was the afterlife, but the stories all said that it was an infinitely long mead hall, not a seaside chasm.
Somewhere below her a bell was ringing, slowly.
She was still reeling from the dizziness that had suddenly overtaken her on the mountain pass. A moment ago she was flailing, reaching out for Barnabas. Then blackness. Now this. Lin felt defeated. She thought of Mica and a lump formed in her throat. He would die without the potion.
"Are you alright up there?" a voice called.
"Yes," she answered. "Where am I?"
"This is Nameless Chasm. I'm Alonso."
From the corner of her eye, Lin saw the man climbing up a ladder on the steep cliff face.
"Now hold on tight to this rope," he said as he tossed her a long rough line. Lin grabbed it, and when she gave the sign the net supporting her give way. She hung in mid-air.
"When I'm on the ground, swing over to the ladder and climb down."
Lin followed his instructions and twenty feet below she found herself on a beach. The narrow chasm opened to the sea.
"You've had quite a fall." Alonso was short, wiry, and deeply tanned. His hands were strong and his fingers calloused.
He noticed her gaze. "I used to be a fisherman, but now I mostly catch people," he laughed. "You'd be surprised how many folks tumble off that pass every year."
He motioned to the small hut nearby. There was a table and chairs outside it. "Can I interest you in a cup of tea?"
Lin looked up the cliff but she couldn't see the path she'd fallen from. "I have to get back up there."
Alonso shook his head. 'I'm afraid the wizard's made it quite impassable. The only way to the Northwest is through the Caverns of Crane. But it's a treacherous journey--"
A scream came from nearby, a terrified shriek that immediately sent Lin and Alonso running in its direction.
(image by Spike)

Posted by Jeff at March 21, 2017 6:51 PM