White Stripe
Please note: MP3s are only kept online for a short time, and if this entry is from more than a couple of weeks ago, the music probably won't be available to download any more.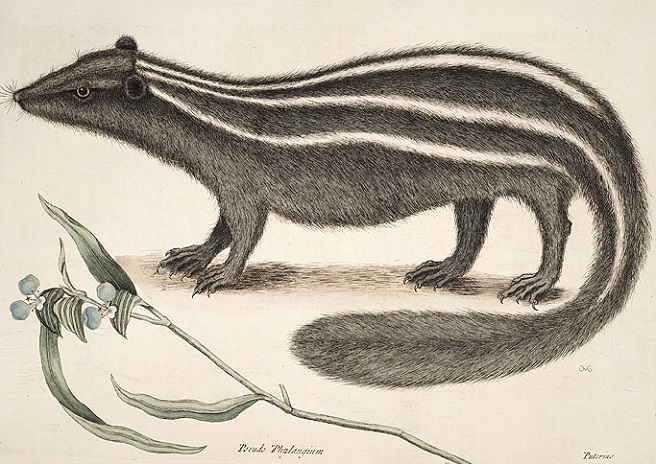 Skunks! I don't know where they came from but one summer I saw them every time I went out, mostly around the tracks. Maybe they got tired of hopping trains and set up a hobo jungle. This was back when the fences were always cut and passage over the tracks was guaranteed. We would see them, shadows moving in the night, and stand back to give them passage. They move in a wiggly side to side fashion, loose hips, like they're dancers. When you're packing that much heat you can shake it any way you please.
One night Relic and I were out walking and saw a cute cat with a white stripe coming towards us down the sidewalk. "Moufette!" some folks hanging out on a balcony warned us and POOF he was gone. Relic high-tailed it, knees flying in the air, like he turned into a cartoon for a moment, leaving a puff of smoke behind him.
Coming home from a show a few weeks back I saw one a ways ahead of me on the sidewalk by the lumberyard. This time we were walking in the same direction. She was just getting on with her life and I gave her a wide berth. It was a cold night, but she looked well fed. We were two nocturnal creatures, neighbours living our own ways by the train tracks.
Montreal: TV Freaks are playing with fellow Punk Scrapbook 2015 alumni Heathers, plus some other great bands at Brasserie Beaubien on Saturday night. Be there!
[buy]
Posted by Jeff at March 15, 2016 11:29 PM