A BAND CALLED YEASAYER
by Sean
Please note: MP3s are only kept online for a short time, and if this entry is from more than a couple of weeks ago, the music probably won't be available to download any more.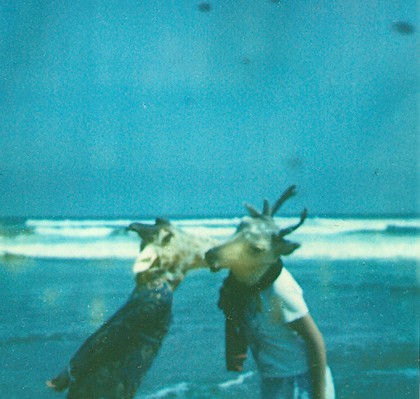 Yeasayer - "2080". On the back of one song, Yeasayer have become my biggest discovery of the year so far. We all often hear music we like - catchy melodies, clasped lyrics. (I share such stuff with you here.) But the rarer feeling is to be exhilarated by something. To feel in a song a promise: the suggestion of a bigger, wider, longer song that's as yet unsung. Stepping into an empty street and smelling the pepper fragrance of a fire.
"2080" is Fleetwood Mac, Akron/Family, Paul Simon, Arcade Fire, Cree chant, schoolyard song. It's dancing alone under a streetlight, in your room with the lights on, or in a club on those hot strange first hours of the new year. It's a night garden. It's a pop song. It's soft rock, New Wave, and art music. It's got heart-thump drums, distant xylophone, clarinet, guitars, voices in harmony. It's got piano and backwards-playing tape. It's got the kitchen sink -- and all these things under starlight.
I haven't heard Yeasayer's (upcoming) album. I haven't seen them live. All I know is that "2080" is a string of good ideas, a necklace of a hundred rubies. It's weird and great and not like the work of any other band I can think of. There is something in its beauty & boldness that makes me very, very excited; like I've stung my finger on a rose-thorn.
Yeasayer are from Brooklyn and their debut is due later this year on Monitor Records. At SXSW they provided tambourine, dance moves & backup vocals at a Hanson gig. Now they're opening for Frog Eyes. I should not have to tell you to pay attention to a band cherished by both the creators of "MMMbop" and "One in Six Children Will Flee in Boats". I should not have to tell you, friends, but still I'm going to: PAY ATTENTION.
Upcoming Yeasayer tour-dates (you guys know i do not often do this):
May 25, 2007 at Beachland Tavern in Cleveland, OH (w/ Frog Eyes)
May 26, 2007 at Bluebird in Bloomington, IN (w/ Frog Eyes)
May 27, 2007 at Schuba's in Chicago, IL (w/ Frog Eyes)
May 28, 2007 at 7th Street Entry in Minneapolis, MN (w/ Frog Eyes)
May 29, 2007 at Vaudeville Mews in Des Moines, IA
May 31, 2007 at DC 9 in Washington DC
June 1, 2007 at Johnny Brenda's in Philadelphia, PA (w/ Datarock)
(photo by *son*)
Posted by Sean at May 21, 2007 4:31 AM

Yet another post which reminds me why I still read Said The Gramophone, despite no longer being able to download mp3's (Uni Hall's network). But oh how I wish I could just download this one song! Oh well. I still love the fact that music journalism can be (and your posts more-or-less always prove it) exciting and invigorating even without the possibility of hearing said music. Keep up the eloquence.
That is a ridiculously fine chant-chorus and an almost as great sing-chorus, the neighbors must be jealous. On third listen, every sung part in the this song is magic. If the whole album has half as many ideas as this song, it will be a wonderous effort. Thanks!
I cannot listen to this song with fully open eyes.
It is an amaizing song there's something that reminds of peter gabriel played by the animal collective.
that's a totally right-on comparison, federica. those (Peter G and Animal C) were actually the two other names i was going to mention in the post but cut due to length.
Thanks for sharing this secret of yours Sean, it does have a direct reference to Fleetwood Mac and it also reminds me alot of my father's America records rather than Paul Simon, you know those guys who sang 'horse with no name' 'muskrat love' 'tin man'...
J'adore.
No love for the new Okkervil River song?
Also: new Spoon? What the hell?
Saw Yeasayer at the Beachland Tavern when they opened for Frog Eyes. They stole the show, and I write this as a Frog Eyes fan. I imagine had a similar feeling as people who witnessed bands like Floyd and Peter Gabriel's Genesis before they made it. Music to live by.
Amazing find Sean, it just sounds like an instant classic... Erm, how many of these have I discovered on your site?!?
Can't wait for an album...
I happened to hear this wonderfull piece of music by Yeasayer and heared it over and over again..Its insiring to hear good music for once..not often i come up feeling this good about a band. I really hope that they will continue to produce more music of this caliber. Welcome Yeasayer to the World.
this song made my life worth living today
;)
this band has become an instant hit in my eardrums!
i feel like i can hear a bit of rusted root in there too...
My debut of the year, an incredibly fresh-sounding band. Utterly compelling.
YEASAYER IS SERIOUSLY ONE OF THE BEST BANDS I HAVE EVER HEARD. THIER MUSIC HAS A SPELL EFFECT ATTACHED TO IT. THE MUSIC AND YOUR SOUL CONNECT. THEY ARE BY FARRRRR....ONE OF THE BEST INDIE BANDS AROUND!!!!!!!
SMOKE SOME WEED AND PLAY YEASAYER....IT IS SERIOUSLY AMMMMMAZING. ONE OF THE BESET EXPERIENCES I HAVE EVER HAD.