GETTING HIT
by Sean
Please note: MP3s are only kept online for a short time, and if this entry is from more than a couple of weeks ago, the music probably won't be available to download any more.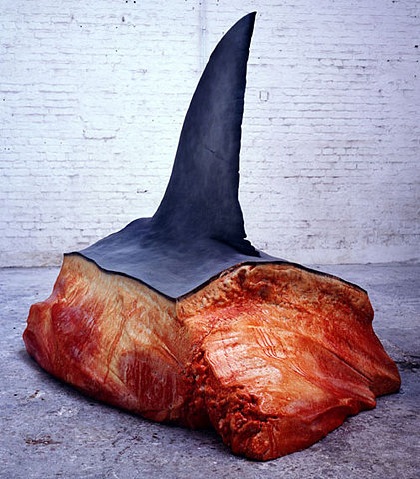 Frightened Rabbit - "Keep Yourself Warm". Frightened Rabbit's new one, The Midnight Organ Fight, is terrific and absolutely unrevelatory. The band aren't doing anything new - this is just same-old melancholy indie-rock, folk-inflected, full of wistful harmonies, booming choruses and bombastic dynamics, - but Frightened Rabbit do it so. very. well. Even Scott Hutchison's (pretty terrible) lyrics aren't an obstacle: his singing is still the band's greatest strength, turning turgid poetry into heartache, want, will. In my National Post column tomorrow I compare the band to the Constantines, Okkervil River and the Foo Fighters, and I like that there's a band somewhere integrating those three sounds into a single, simple pleasure. A song with the stupid-euphemistic lyrics "you won't find love in a hole" is nevertheless one of my favourites of the year. [buy]
Mr Gnome - "Pirates". On the night at the loft party, five stories up the concrete block, you spun and shook to dance music, and then the vodka you had drunk began to sour, and your friends were just blurs, and so you decided to go, brushed by everyone, slipped on your coat and ran a hand over your face. And you put on yr ipod (this song), closed yr eyes as you washed away the before and dove headfirst into the after; you pretended like the night had a crescendo all the same, listened to yr one night stand in your earbuds; yeah, yeah, yeahs; and when you fell down the concrete, heels over head, smashed and bloody, you didn't open your eyes or stop listening, you just fell, and heard the sound of your falling. [album out tomorrow]
---
Saw Robyn last night. Had a really, really, really wonderful time.
---
I've made a few muxtapes lately: 1 2 3
[sharkmeat photo by John Isaacs]
Posted by Sean at May 5, 2008 11:09 AM

gracias
merci
Doh je
Danke
(and my personal favourite, Romamian Gypsy) Gestena
thank you lovely monday.
...I should really learn to type.
Mr. Gnome comprehends dynamics, no?
The photo strikes home with me, as one of my fellow San Diegans was recently killed by a great white.
"Pretty Neato" describes the whole post, even the ones with marginal musical value had plenty of interesting ancillary aspects.
hey, thanks for saying so.
Hey,
just wanted to let you know how much I appreciate and enjoy your ability to blend the intrinsic qualities of music with the craft of words. Your review of songs creates an eagerness in me to listen, to hear, to learn from the music...I love that feeling.
Thanks.
hooray for your muxtapes.
I saw Frightened Rabbit in a tiny sweat pit in Winchester on Sunday night and they were immense. God, what a great band. I think you're harsh on his lyrics too.
@Matt
I don't get it either, FR's lyrics are so subtle and nuanced in this song.
o_O
god, you guys. you do this to me every time! this time i wasn't at all sure i would like both of these songs, and the moment i almost turned them off, they turned into these huge things that just knocked me over and made me go insane. thank you thank you thank you!
'yr'? Enough of the text-speak already. What's wrong with the good old-fashioned second person possessive pronoun?
This record is epic. I think, on the whole, his lyrics are pretty profound. "You must be a masochist to love a modern leper on his last leg". Damn.
i'm a poser yank myself, but in scotland "getting your hole" means getting laid. just trying to back up scott hutchinson's (terrible, turgid) poetry. i'll throw another comment out in support of the scared bunny's lyrics.