NUTMEG SMOKE
by Sean
Please note: MP3s are only kept online for a short time, and if this entry is from more than a couple of weeks ago, the music probably won't be available to download any more.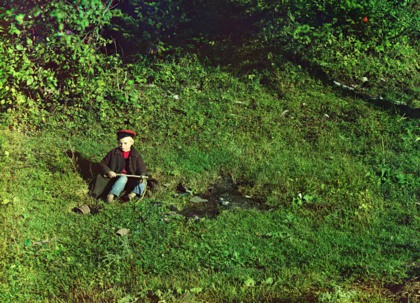 Abner Jay - "Depression". The way the blues can be a power, a force, a lodestone in your chest that sends you plunging through space. Imagine a ship that has no cannonballs, only heavy hearts; the black powder booms and they sing away over the waves, crack timber, splinter bone. My heavy hearts have sunk a thousand ships. Whole navies foundered, sit now at the bottom of the sea. And I am on my flagship, my lonesome flagship, with every sail unfurled.
[Abner Jay recorded another version of this song, visited here / buy]

Camilo Diaz Pino - "Scott Pilgrim (Plumtree) - 16-bit cover". I enjoyed the movie, but this is better. And it's better than Plumtree's original. It takes the chugging angst and just lets it go. It forgets every detail, forgets the clutched hopes and back-story. It is what it is, fragile and bittersweet, nostalgia without irony. It accomplishes the same thing, maybe, that Bert Jansch used to do; only today an acoustic guitar has different valences. And this cover sounds different, now, than it would have in 1995. And I'm a different person, now, than I was when I was young.
[this comes via YouTube / with every thanks to Matthew Perpetua]
---
For those who don't follow me on Twitter, I made a mix for the end of August. It is now September, but you can probably still enjoy it. Download here (1h14, 107.5mb), and track-list (spoilers! wait 'til after yr first listen!) here.
[photo source, taken about a century ago]
Posted by Sean at September 2, 2010 11:40 AM

Speaking of the blues, I've just recently been really enjoying two compilations that're kicking about for pennies at the moment:
Voodoo Blues - http://www.notnowmusic.co.uk/360.htm
&
Vintage Sex Songs - http://www.amazon.co.uk/Vintage-Sex-Songs-Various-Artists/dp/B001APFIV0
Though, with one of them technically having been released '08 and just not entered UK shops/collective knowledge til now, you might already know of it, and the UK/Canada price difference seems a bit cruel, but just thought I'd mention them as they're definitely well worth checking out...
And the mix is great, too!