Said the Guests: Keith Greiman
by Sean
Please note: MP3s are only kept online for a short time, and if this entry is from more than a couple of weeks ago, the music probably won't be available to download any more.
Keith Warren Greiman is an artist and illustrator from Philadelphia. I've never been to Pennsylvania but when I imagine the place I picture old grey buildings, plain beards, basketball, puritans. I definitely do not picture the stuff of Greiman's work, all pop-culture cave-drawings and technicolour caricature. It's a viciously live look and it's fascinating to see it in the service of three very different songs, illustrating each. As reggae plays, leopards kill each other and ride bicycles; Shuggie Otis drifts easy toward his psyche-de-tra-la-la-lic home; and the Make-Up look blissful in their chemical reverie.
Thanks so much to Keith for sharing his work. Please leave a comment telling him what you think! -- Sean
Alton Ellis & The Flames - "Cry Tough"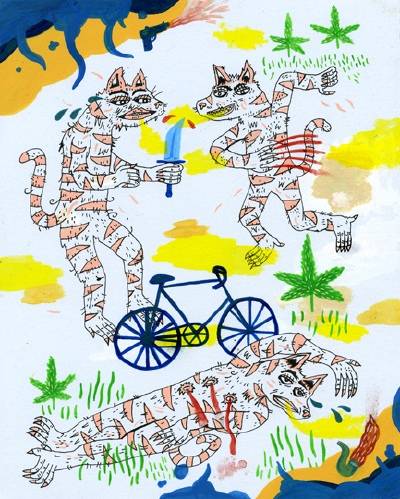 Keith Greiman - "Cry Tough" (click for full size) (buy Cry Tough)
The Make-Up - "Blue is Beautiful"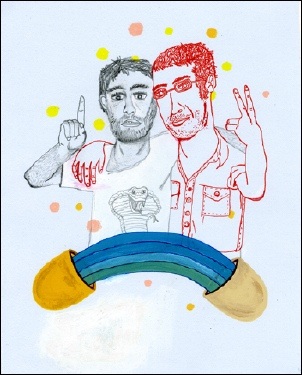 Keith Greiman - "Blue is Beautiful" (click for full size) (buy I Want Some)
Shuggie Otis - "Happy House"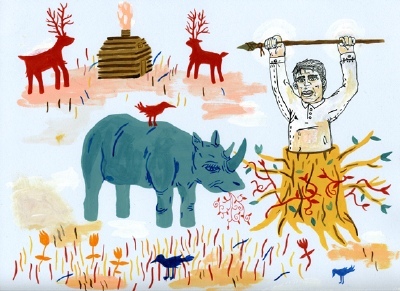 Keith Greiman - "Happy House" (click for full size) (buy Inspiration Information)
[Keith Greiman's website is here. He has a screenprint available for $20 at Little Paper Planes.]

(Previous guest-blogs: artist Matthew Feyld, The Weakerthans, Parenthetical Girls, artist Daria Tessler, Clem Snide, Marcello Carlin, Beirut, Jonathan Lethem, Will Butler (Arcade Fire), Al Kratina, Eugene Mirman, artist Dave Bailey, Agent Simple, artist Keith Andrew Shore, Owen Ashworth (Casiotone for the Painfully Alone), artist Kit Malo with Alden Penner (The Unicorns) 1 2, artist Rachell Sumpter, artist Katy Horan 1 2, David Barclay (The Diskettes), artist Drew Heffron, Carl Wilson, artist Tim Moore, Michael Nau (Page France), Devin Davis, Will Sheff (Okkervil River), Edward Droste (Grizzly Bear), Hello Saferide, Damon Krukowski (Damon & Naomi), Brian Michael Roff, Howard Bilerman (producer: Silver Mt. Zion, Arcade Fire, etc.). There are many more to come.)
Posted by Sean at January 18, 2007 5:00 AM

i like 'happy house' the most of those three. the skewed, sparse, bizarre nature is fun. reminds me of some of marcel dzama's rootbeer watercolours.
not so crazy about 'blue is beautiful'. the stumpy forms and dullish, dark tones seem a bit grating [even though it's pretty much the same palette throughout the three images...].
but yeah, the more broken down perspectives are cool.
sean: that is, without a doubt, the most ill-informed description of pennsylvania i've ever read. if i were you, i'd ask for a refund from that community college creative writing course