SAVE YOUR DAYLIGHT!
by Sean
Please note: MP3s are only kept online for a short time, and if this entry is from more than a couple of weeks ago, the music probably won't be available to download any more.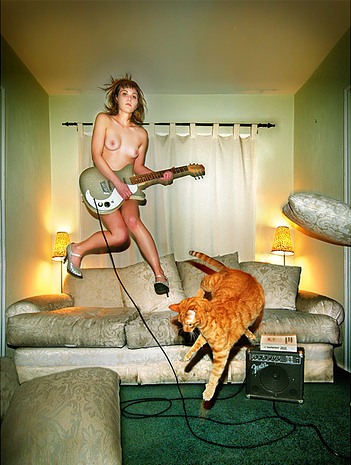 [photo by merkley???]
Kyla D - "Tooth". My friend Kyla released a tape last year but tapes being tapes and miles being miles, I've only now had the pleasure to hear it. It's one of those moments when it's very easy to be both music critic and friend; because, well, her songs are amazing. We used to listen to Mirah's You Think It's Like This But Really It's Like That, and Kyla would look dolefully at her own acoustic guitar, and now here she is making something that recalls all of the same worry, thirst, play and heartthump, but which is in some ways even better (and not just because Kyla used to bake me naan). I love how the production flourishes sprout and then abruptly disappear, like moths found fluttering in the kitchen or roomies who up 'n move out. The lyrics are an over-extended analogy, 1:45 of mixed metaphor, but the tangle of wit, honesty & distraction seems just-right for the relationship described: "we fumbled awkward / did a gentle dance ... and we were happy".
[buy (I ordered the Ray Rumours debut and the Sleeping States split tape as well!)]

CSS - "Knife (Grizzly Bear cover)". I'm surprisingly easy to confuse. If a lover were to backstab me, I'm not sure I'd understand. "What?" I'd say. I'd leave messages on their answering machine, asking the wrong questions - befuddled monologues ending with "Yeah... Ok so call me?" Here's another thing that confuses me: how this cover of a song called "Knife" sounds a lot like the band The Knife. But it isn't by The Knife. CSS are Brazilians, not Swedes, and the lead singer's called Lovefoxxx. It makes me wonder if there's a Grizzly Bear song called "CSS" which The Knife cover in the style of, uh, CSS. Okay okay but regardless of what the hell is going on, CSS's "Knife" is great, by far the best cover that's appeared in the past two years of "Knife"-covering and -remixing. It's got heart-attack zap, shimmer and shake, the faintest tremble of loss under the steely-sung chorus: "Do you think it's all right. Do you think it's all right." Like if the inflection let it be a question Ms Lovefoxxx might find her voice cracking. "Can you feel the knife;" she sings, again barely asking: a semicolon not a question mark. Because it's a rhetorical question. The betrayer thinks it's all right. And Lovefoxxx can feel the knife. Sharp. Even as she grits her teeth and slips like tongue-in-mouth all over the dance floor.
[Grizzly Bear's terrific, heaving new 11-track Friend EP is now available for purchase.]
---
The full text of Sheila Heti's Believer interview with Dave Hickey is online, and it's fucking great. I was not smart enough to have heard of Mr Hickey, but he's an art/cultural critic and english prof who more than anything comes across as the sort of person you call a Thinker. And his ideas are full of spontaneous insight and a very ripe, live sense of humour.
With the artists, I don't teach, I coach. I can't tell them how to make art. I tell them to make more art. I tell them to get up early and stay up late. I tell them not to quit. I tell them if somebody else is already making their work. My job is to be current with the discourse and not be an asshole.
[via
Zoilus
, obv]
Posted by Sean at November 5, 2007 12:47 AM

brilliant post. through and through perfect. Dave Hickey is my new favourite person, and Merkley is bewildering but simply great, and Kyla, well, I always knew she was super.
eeesh sean. i check this site at work. probably a lot of people do. not that you should censor your site on my account. i'm just saying.
UGH MY WIFE JUST LEFT ME BECAUSE I GOT FIRED FOR LOOKING AT THIS AT WORK AND I HAD TO SELL MY HOUSE AND CAR NOW I'M WHORING MYSELF OUT TO TRUCKERS TO PAY FOR MY GROWING METH ADDICTION THANKS SEAN!!!!!!!!!!!!!!!!!
I totally understood that whole speil about The Knife, CSS, and Grizzly Bear. haha wow.
The songs were lovely. I did find it strange how much CSS sounded like The Knife in their song.
I'm completely aware that you in no way posted that song for me, but it ended up helping me in a way, so thank you for that.
All the best,
Keane
Hey Sean,
Thanks for the post, really enjoyed the CSS/Knife/Grizzly Bear track.
I liked it so much I shared in the confusion in this weeks Anablogue episode, a podcast about mp3 blogs.
http://anablogueradio.blogspot.com
Thanks,
Andy
"You Think It's Like This but Really It's Like This"
more more more Kyla D!!!!!!!
Your buddy Kyla D's song is really pretty good, umm not bashful eh, lol, she's a riot.