WU LYF
by Sean
Please note: MP3s are only kept online for a short time, and if this entry is from more than a couple of weeks ago, the music probably won't be available to download any more.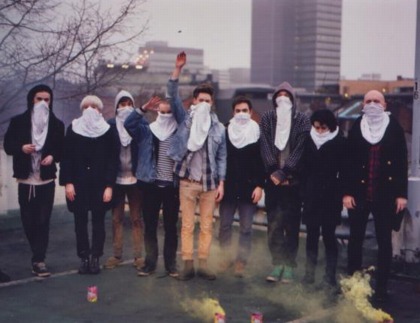 WU LYF - "SUCH A SAD PUPPY DOG"
WU LYF - "Heavy Pop"
WU LYF - "Lucifer Calling (Demo)"
Vagina Wolf - "Nic Cave"
Vagina Wolf - "Scissors for your Hair"
WU LYF - "ALL THE SILLY CATS KEEP TALKING, SPITTING FLOWERS, SPITTING BLOOD"
WU LYF - "SPITTING IT CONCRETE LIKE THE GOLDEN SUN GOD"
WU LYF - "Lung Songs"
Setting aside the band's elusive debut EP, released in a hand-made edition of 14 (and sold for a hilarious £50 each), this is, as far as I can tell, the complete online catalogue of the band known (usually) as WU LYF. I collected it gradually. The most recent track, a collage called "Lung Songs", was revealed in late March.
They are from Manchester. They boast many members. The band-name is an acronym. It stands for World Unite/Lucifer Youth Foundation. It is also a reference to the Wu-Tang Clan; WU LYF have been known to call themselves the TU-WANG GANG. Other monikers include Wu Lf Wu Lf, Wu Def, WE BROS, and Vagina Wolf (possibly a separate, earlier band).
At this stage, WU LYF consist mostly of mystique. Their website is a beautiful, bewildering Tumblr site, with mysterious icons, photographic pastiche, fragments of sloganeering poetry. Their MySpace page is the most useless I have ever seen. But these are not mere bumblers. If nothing else, the £50 demo should tell you something. They have a Facebook group. Their manager - or, as they put it, "war god" - is Warren Bramley, sterling-minted creative director of the Four23 ad agency. Most of WU LYF's concerts take place at An Outlet, the venue owned by Four23.
Furthermore, WU LYF's mystery is gorgeous, evocative, haunting. Though photos reveal they are just a band, the group's imagery and writings make the rest of us, faraway, imagine more. It's part Crowley, part Eliot, part Thom Yorke. References to Godspeed You! Black Emperor's skinny fists, visual nods to rebellion and apocalypse. Any suits wanna come? WU LYF asked in a recent concert announcement. Some wild cats in clean clothes? wanna make-see some hype? fuck you, this aint for you, this is for kids, kids who have the courage to remain kids, not peddle their ass for the dreams of mountains peak. me and my boy tommy gun been sharpening our fists, come get cut up.
"Even in this overlit environment [WU LYF] are proving difficult to decipher, to get a fix on, which makes us very happy indeed," Paul Lester wrote for the Guardian. "They're baffling. ... There is a sense here of quasi-spiritual fervour, of revolutionary intent, of myths being made. Meanwhile, the idiosyncratic deployment or disfigurement of language and semantics continues with their list of song titles. ... Tantalising as hell."
Secrets are very cool, right now. Hidden scenes are burning untraceable CD-Rs, loosing 7"s. Basement collectives are making cassette-tapes, resistant to ripping. Partly it's nostalgia, sure - chillwave's analogue fetish, our dreams of Teenage Mutant Ninja Turtles pyjamas. But we also took for granted that we could google any band, download any song. WU LYF, and others, wish to prove that you can hide. By hiding, in time, they wish to become famous.
It's WU LYF's branding that makes us hear their music as bewildering "heavy pop", and not just in terms of Wolf Parade, early Gomez and mash-ups. (Some of their tracks are good, others not.) But this branding does more than mask the band's influences. It also helps us listen. The best way to discover something is with heart wide open, like the door to a wardrobe. To be alert, curious, seeking. Context can dull this appetite. We see a band at a show - we know their deal. We buy an album after reading a review - we understand what we will be hearing. There is no helping the fact that we engage with art in a negotiated way.
With WU LYF, what we bring to the music is the excitement of not-knowing. All signs point to treasure. We want this to be a treasure. We put on our headphones and pan for gold.
Posted by Sean at April 1, 2010 12:56 AM

wait, so this isn't an april fools?
ooooooh I'm in love again, please find more tracks
That's mostly really great stuff. Thanks.
Scratch that. That's a selection of some really great stuff mixed with some pretty uninteresting stuff. But the great stuff is great.
that was utter garbage. boring, unoriginal, gimmicky, unmusical. like the british prep school version of the american band SALEM.
there's another song called concrete gold out there too
OH YOU GOT NO CLU NO CLU
STAY BACK SUITS WE READY
you make me laugh with all them links
u don't have a clu

YOUR A LOST LITTLE KITTY KAT
YU DONT EVAN KNO WHITE BOY, WU LYF IS THA HOLY FARTHER AND NEXT LEVEL OF GNARLOID.
TOTAL SPLIFF DREAM LOVE FOREVER BITCHES

the band seem to be fighting against 'style over substance' or 'a band image' with their whole internet gimmick, making music not spectacle, but as a result they've done the exact opposite - they've become all about the image and spectacle, talking in shitty limericks and the like.
yet the band probably laugh it off
the band have made an image for themselves in a truly original way...they can gather fans that actually care about the music, come and see them and then decide whether or not they like the music...gigs are cheap...i think it's a little too elaborate a plan to be called a gimmick...and they arent the only band to talk in lymerics and use poetry and art as a major part of their image...i dont get that comment about shitty lymerics.
WU LYF aren't a gimmick. i seen them. they aint trying to hide anything, they just genuinely don't seem to care for the superficial game allot of other the other bands are so desperately trying to get on. By not saying anything all the sad kids on blogs have hyped up a mystery pretense, people seem to forget that all the hype that surrounds this band has been created by some sad bloggers and journalists, all WU LYF have done is create some interesting music and imagery. and kept their mouth shut
the good thing is that despite all the emphasis on imagery and stuff.. theres actually really good music behind it
A bunch of guys trying to be smarter than they are. The singer told me himself he doesn't really listen to music. Shiiiiit he must be cool?!
Shame because Heavy Pop is a great song.
they're a bunch of total arseholes
i've never met such a pretentious, private school mummy's boy as the lead singer...absolute contrived bull shit. He lives in his own colon. the fact that people actually seem to believe that they don't want any attention is absolute idiocy...
Whether they are arseholes or not or whether they care what people think about them doesn't really matter to me. Most of their music is really really good.
the reason you "never met such pretentious private school mommys boys" is because you blatantly have never met them.
The Robman
That link is dead, I've been looking for these songs for a while now. can you please re-upload them, or direct me to where I can find them.