2nd Runners-Up: Wonderful Video Contest Winners
Please note: MP3s are only kept online for a short time, and if this entry is from more than a couple of weeks ago, the music probably won't be available to download any more.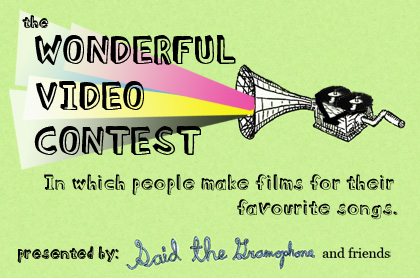 Okay, here we go with the first installment of winners of the Wonderful Video Contest. I'm so excited to show you the work that's been done, but even more excited to hear what you think about it. Today, and for the next 2 Mondays when we announce winners, the comments aren't for us, they're for the filmmakers, so let them know what you think, because they would love it. You would love it too.
13. CSS - "Poney Honey Money"
video by Renata Takatu and Guilherme Amorozo
renatatakatu @ gmail.com
In Renata's own words, it's "sort of a stripped down version of Oasis' "Let There Be Love" in full color [but] much cooler". That's exactly what it is. I'm reminded of Pavement's
"Range Life"
video as well, which is more similar in showing how much fun the band is. I've never seen a better portrait of a band playing a show for nine people than this. It's obvious why they have probably never played for nine people since. (awarded Dreamboat Records prizepack, Young God prizepack)
--
12. Beirut - "Forks and Knives"
video by Timothy Krings & Jason Whalen
tjkrings @ gmail.com
This has fantastic pace. It has space and speed yet wonder and pause. It's like a love letter written to how much can get done in one day. This is the last day of the year, so it's great checking-up on everything they have. On their city, on their friends, of all their senses, both dulled and sharp. Very crisp, like brisk air, or the blare of a siren ripping through the night. (awarded Arts & Crafts prizepack)
--
11. Sufjan Stevens - "Decatur"
video by Ainslee Wallis
aaw0068 @ unt.edu
Sufjan Stevens's "Decatur" is tune-as-catalog, more bulleted list than pop-song. Ainsley's video recognises this and celebrates it. Whereas he plays with rhyme, she plays with line. I love how it seems a process of discovery, the filmmaker discovering tricks as she goes - the way some drawings turn out better than others, some images lingered on and others just teases. Most of all, I like the aquarium: that Ainsley's filled the spaces in Stevens's song - how she's
added
to his endless series, unfazed by his verbosity. Also: seems like it was tons of fun to make. (awarded Polyvinyl prizepack)
--
10. Spoon - "Back to the Life"
video by Mike Bennett
mikebennett6 @ hotmail.com
Mike Bennett's video for "Back to the Life" doesn't just capture the flat/clap/snap of Spoon's song, or a certain fluorescent kind of insomnia: it's also cut with a whimsy and care that make a joke out of the tiredness, that find a punchline in the fatigue. It's a film that brings new ideas with every go-round, and is, man, yeah, so great. (awarded Merge prizepack)
--
So that's this week's installment. Next Monday: the 1st runners-up.
Posted by Dan at February 18, 2008 3:12 AM