A BAND CALLED YEASAYER
by Sean
Please note: MP3s are only kept online for a short time, and if this entry is from more than a couple of weeks ago, the music probably won't be available to download any more.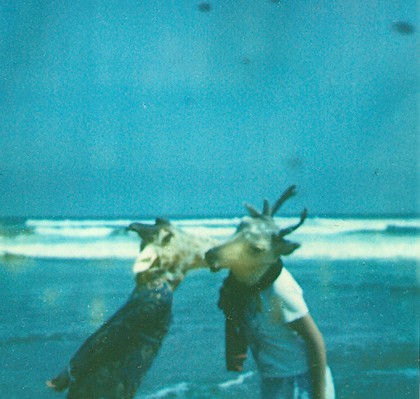 Yeasayer - "2080". On the back of one song, Yeasayer have become my biggest discovery of the year so far. We all often hear music we like - catchy melodies, clasped lyrics. (I share such stuff with you here.) But the rarer feeling is to be exhilarated by something. To feel in a song a promise: the suggestion of a bigger, wider, longer song that's as yet unsung. Stepping into an empty street and smelling the pepper fragrance of a fire.
"2080" is Fleetwood Mac, Akron/Family, Paul Simon, Arcade Fire, Cree chant, schoolyard song. It's dancing alone under a streetlight, in your room with the lights on, or in a club on those hot strange first hours of the new year. It's a night garden. It's a pop song. It's soft rock, New Wave, and art music. It's got heart-thump drums, distant xylophone, clarinet, guitars, voices in harmony. It's got piano and backwards-playing tape. It's got the kitchen sink -- and all these things under starlight.
I haven't heard Yeasayer's (upcoming) album. I haven't seen them live. All I know is that "2080" is a string of good ideas, a necklace of a hundred rubies. It's weird and great and not like the work of any other band I can think of. There is something in its beauty & boldness that makes me very, very excited; like I've stung my finger on a rose-thorn.
Yeasayer are from Brooklyn and their debut is due later this year on Monitor Records. At SXSW they provided tambourine, dance moves & backup vocals at a Hanson gig. Now they're opening for Frog Eyes. I should not have to tell you to pay attention to a band cherished by both the creators of "MMMbop" and "One in Six Children Will Flee in Boats". I should not have to tell you, friends, but still I'm going to: PAY ATTENTION.
Upcoming Yeasayer tour-dates (you guys know i do not often do this):
May 25, 2007 at Beachland Tavern in Cleveland, OH (w/ Frog Eyes)
May 26, 2007 at Bluebird in Bloomington, IN (w/ Frog Eyes)
May 27, 2007 at Schuba's in Chicago, IL (w/ Frog Eyes)
May 28, 2007 at 7th Street Entry in Minneapolis, MN (w/ Frog Eyes)
May 29, 2007 at Vaudeville Mews in Des Moines, IA
May 31, 2007 at DC 9 in Washington DC
June 1, 2007 at Johnny Brenda's in Philadelphia, PA (w/ Datarock)
(photo by *son*)
Posted by Sean at May 21, 2007 4:31 AM