A PREMATURE VALENTINE
by Sean
Please note: MP3s are only kept online for a short time, and if this entry is from more than a couple of weeks ago, the music probably won't be available to download any more.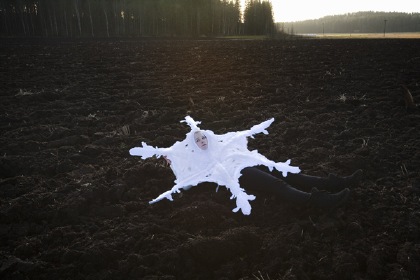 image by, and posted without permission from, the remarkable Riitta Ikonen
Lykke Li - "Dance Dance Dance".
Lykke Li - "Little Bit".
Oh jeez, uh... Hi! Yeah, yeah I recognize you. Sure. You're friends with Robyn and Feist and Lily, right? Yeah, I like them too. I'm Sean. How do you do? Uh- Lykke? How do you spell that? What a lovely name. No, I'd never heard it before. That's true. I've only been to Stockholm, and just for a few hours. I was born in Scotland. I know I don't! I moved to Canada when I was just a kid. A fraudulent Scot, yes. Were you born in Sweden? Wait, what? A Portuguese mountaintop!? Was it cold? Sure, I'll hold on to it for you. What do you want me to do? Rattle it? And stamp my foot too? Are we recording a song? Who's that? That's a very large saxophone. What were you saying about a Portuguese mountaintop? No, I was never in a one-piece band. Of course I wanted to be! I thought as a little boy I would one day be a tap-dancer. It didn't pan out. Why thank you. Yup, just hand it here. shakeshakeshake I'm ambidextrous. Of course I know Shakira. Your hips don't lie either? Ah, because you're shy shy shy. I like it. Oh man, this is good. Do you mind if I dance, uh, just a little bit? Oh that must be the choir. Hi ladies. I'm Sean. This is the Montreal cha-cha. That's the man with the very large saxophone. And that's Lykke. Yeah, of course you know her. She's sweet, huh? She told me to just keep on onning with this, until the end. Don't tell her but I'm hoping it doesn't end. A crush? Oh. Oh, oh. Oh, well, just between you and me, I think just a little bit.
[Londoners: Introduce yourselves on February 20.]
[buy]
---

Posted by Sean at February 6, 2008 8:00 AM