A RED YES
by Sean
Please note: MP3s are only kept online for a short time, and if this entry is from more than a couple of weeks ago, the music probably won't be available to download any more.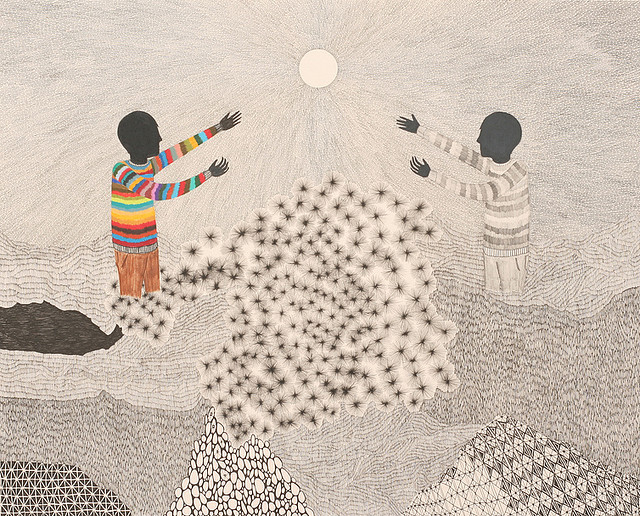 Actual Water - "La Violence sur les Champs-Élysées". At first it seemed like a regular charge, an army with pikes and muskets marching down the boulevard. But as they passed through the tulip gardens, the soldiers began to change. Musketmen blurred into pikemen. Generals became their uniforms. Greens, blacks and pinks seemed to smear together. There was still violence in the crowd, still gunsmoke and pride. But this wasn't a gang of gathered patriots. This was a hideous, splendid, multi-limbed thing, galloping through broken petals.
[Actual Water are from Toronto. They make lo-fi paisley pop, like a beautiful broken 45. Their new LP is out today / bandcamp / video / album release party at Toronto's Sneaky Dees, tonight!]

Augustine Enebeli Olisa & The Black Arrows - "Isiche". In a week of many beauties, this is the most beautiful thing I have heard. Shadows, starlings, looks in lamplight. The tenderness of the horns, the kindness of the guitars, the sureness of Olisa's voice. Fumbling and happy, I resort to old metaphors. ...the rosegardens and the jessamine and geraniums and cactuses and Gibraltar as a girl where I was a Flower of the mountain yes when I put the rose in my hair like the Andalusian girls used or shall I wear a red yes and how he kissed me under the Moorish wall and I thought well as well him as another and then I asked him with my eyes to ask again yes and then he asked me would I yes to say yes my mountain flower and first I put my arms around him yes and drew him down Jo me so he could feel my breasts all perfume yes and his heart was going like mad and yes I said yes I will Yes. [out of print]
---
Unlikely solicitation: Do you live in Russia? I am hoping to make the journey this summer, to research my book. I'd love to connect with readers - please get in touch! The only for-sures on the itinerary are St Petersburg and Magadan, Siberia, which brings me to my second question. Magadan. That is a very faraway place - for me, at the edge of the known world. And so I'm working very hard to try to find contacts there - would-be friends, friends-of-friends, friends-of-friends-of-friends. Do you live near Magadan? Do you know someone near Magadan? Do you know someone who might know someone near Magadan? Family, friends, former research assistants? If so, I would be very grateful if you'd email me.
Posted by Sean at January 26, 2012 11:27 AM