AFTER MICHAEL JACKSON DIED
by Sean
Please note: MP3s are only kept online for a short time, and if this entry is from more than a couple of weeks ago, the music probably won't be available to download any more.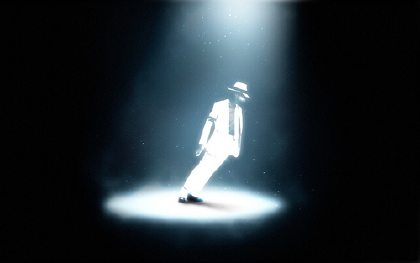 Michael Jackson - "Billie Jean (demo)".
I
After Michael Jackson died
the first thing he learned
was quiet.
His spirit slipped lightly from his body
It was as light as he had dreamed of being for
years
like diamonds, grass pollen,
the dust that sits on mirrored surfaces.
His spirit slipped like steam from a kettle's spout.
Briefly he thought of his grandmother,
and he wondered if he would see her soon,
now that he was dead,
now that his spirit was being lifted
lightly;
and as he saw the doctor from Las Vegas leaning over his body, pushing at his old bones, at his chest, at the muscles he had earned this spring under silver machines, he saw himself as beautiful; strange but beautiful; in sunglasses.
It was so quiet.
Like the desert
Like honeymoon mornings
He was lifted up out of the bedroom and the house, and he could not hear the chattering televisions nor Frank's pleading shouts, nor the water lapping at the 50-foot swimming pool. He could not hear the sounds he had heard for the past forty years: cars starting, flashbulbs, photographers' patent leather voices; clink and praise from men in expensive suits, sipping from straws.
At the rehearsals
the music had been so loud,
so loud!
like monsters roaring
and the dancers strutting, leering,
Michael so old and so heavy
raising his feet and putting them down
on the floor.
Now Michael was lifted away from the house and the city and he learned quiet.
He re-learned quiet.
A lesson he had forgotten.
He thought of the leaf he had watched once in the window at Neverland
he had watched it do nothing
but be.

II

After Michael Jackson died
the second thing he learned
was remorse.
At the moment his spirit was lifted
lightly
through the veil of cloud and atom
that separates Los Angeles
from other realms,
God came to Michael.
He came like a season.
Michael saw signs, tremblings, promises in wind
and then God was there
raining through him
hailing
sun
and so inconceivably large.
God touched the bottom of Michael Jackson's heart
the place where it shivers
and God showed Michael Jackson
everything he found there.
Every shadow pellet and lie and dark marble of sin,
and every half-sin,
broken promises, professional betrayals, deliberate acts of neglect,
that time with the glass ashtray
& in 1989 with the little knife
someone had left out
because although nothing really happened
something small had happened
and God saw.
God showed these things to Michael Jackson.
God showed even the worst things, the things no one understood, not the tabloids nor the courts, the sugary tarry seconds with boys whose names reminded Michael Jackson
of baloney sandwiches.
God slipped these mistakes from Michael Jackson's shivering spirit heart
& he turned them in the dark
so Michael Jackson would see.
Michael Jackson's mistakes flickered and gleamed.
And for an instant that lasted ten thousand years he felt the exactly sufficient amount of remorse
because God is a capable mathematician
when it comes to remorse.

III
After Michael Jackson died
the third thing he learned
was everything he had never known.
He passed through the purgatory of justice & regret & forgiveness and passed into somewhere else
where he donned a fedora
and a glitter glove
and the world was presented to him in balletic montages
images painted on velvet
messages painted in green June leaves.
Every truth and mystery revealed.
He had lain in bed at night, alone or with others, with friends, with people he loved or strained to love,
and laying stilly his heart had bucked and leapt
had dreamed of answers:
Why did he feel so alone?
Why still did he feel so alone?
Why still still did he feel so alone?
Stilly he dreamed of answers.
Now, behatted, beglitter gloved, all these answers came streaming in hungry undeniable technicolour veracity. Michael Jackson relinquished himself to them. He understood why he had felt so alone, still & still still felt so alone. He understood why his father had hated him. He understood Tito's gift, and Janet's loss, and his own greatest mistake. He understood his willowy love, why Lisa Marie had said the things she said in precisely the way she said them. He understood why he had seen his father's face in the mirror. Michael Jackson understood what had made him so special, for a handful of years in the history of human beings; understood the magic of the moonwalk, of a wild, free "Woo!"; of grabbing your crotch and dancing like a switchblade, a salmon, a moonbeam. He understood that "Billie Jean" was not a song about paternity but instead about bassline, thrust, a certain neon yearning. He understood the liberated
sing
of his childhood songs, the worlds concealed in his boyhood choruses, wants he found words for, even then, before he knew what such wants could be, before he knew the meaning of "darling!", back in the days where he still thought he would find this, find "darling!", before he had given up, turned instead to monkeys and children, to dandelion joys; he understood that lust lasts, that it does not go away just by drinking cold water and eating apricots and chewing tiny white pills; nor by sleeping; and he understood who killed JFK, what killed Elvis, understood finally the stuff those engineers had told him about the "Smooth Criminal" shoe patent, exactly the way the mechanism worked, not just how to use it but how it worked! so simple and so genius!; and Michael Jackson learned how if he had not been a singer and dancer he could have been an award-winning zoologist, would have in this other life worked at Northwestern University, and been happy, but still lost, a little lost, and he would have died in a car accident at age 46, four years ago, in this other life, and never have been married; but Michael Jackson learned as well that it was no use to think What If.
He learned that Uri Geller was a scam artist, and Dr Tohme Tohme was a scam artist, and that Leonard Muhammad and Shmuley Boteach knew scarcely of God;
He learned that he had a true gift;
He learned that the best song he had ever recorded was "I Want You Back", and that his new album, the one with T-Pain and Will.I.Am, was not very good.
Michael Jackson learned everything, he learned the whole universe, became wise as a sage, as the wisest sage
looking upon a garden
knowing the name of every flower
and then he ascended to Paradise.

IV
After Michael Jackson died
the fourth thing
he learned
was
peace.
He arrived at the place
where the dead go
when they are ready.
By the time Michael Jackson
arrived
he knew everything
and so he did not hesitate;
he came in
where it is safe &
good
and he felt the things you feel
in paradise.
He looked down upon the Earth and saw his sons, his daughter, his friends;
all of his friends. He
did not want them to be
crying.
(Okay
maybe a little bit; but
just a little bit.)
But when they were done their mourning
he wanted his beloveds to
be so
happy, so
cherished
& he knew now that they would be
probably
and that the probably is all right.
He saw his mother weeping and
he dispatched angels to
let her stop.
He did not think of his father.
Not in paradise.
Michael Jackson saw a million people playing "Bad" and "ABC" and "The Way You Make Me Feel", all over the world, in river towns and desert towns, skyscrapers and huts
and he saw them moonwalking and
doing the robot
under the stars.
John Lennon came out to see Michael Jackson.
"Hello," he said;
Michael Jackson had always liked English accents.
John Lennon was not angry about all that publishing rights stuff because he was dead and Michael Jackson was dead and both of them understood everything now.
They watched the people of the world doing the robot.
"Nice one," said John Lennon.
James Brown came out too. And Sammy Davis Jr. And even Louis Armstrong
for some reason
and they hung out for a while
watching humankind
sing lyrics like, "the doggone girl is mine",
or "darling!"
all of these late entertainers understanding how much these elegies matter
and how little.
In time he broke away from the famous men
and went in among the others
in paradise
to dwell. And at this point Michael Jackson was
no longer
who he was
(nor was he a child:
he was something freely
in-between;
released from certain shapes & sizes
to live
forever
as he is)

also he could fly
and turn into a switchblade
or a salmon
or a moonbeam;
or into a whole season
a whole summer of sidewalk glitz and starlit yes
for the world to inhabit
all of us loving and singing and dancing
and not knowing that this is Michael Jackson
in whom we are thriving
and making out
and inhaling the smell of mock orange blossoms.
(Michael Jackson is here
and he can still move
like he has figured out
the secret
of it.)
Posted by Sean at June 29, 2009 2:00 PM