ALL YOU CLOWNS
by Sean
Please note: MP3s are only kept online for a short time, and if this entry is from more than a couple of weeks ago, the music probably won't be available to download any more.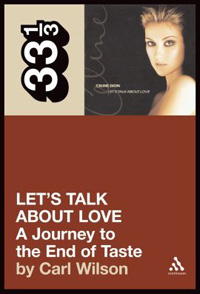 Monday, Tuesday and Wednesday this week, we at StG are writing in response to a book called Let's Talk About Love: A Journey to the End of Taste. It was written by our friend Carl Wilson, as part of the 33 1/3 series. Dan wrote some words yesterday, and Jordan's comments will follow tomorrow.
The book launch for Let's Talk About Love takes place in Toronto on Wednedsay: a free show featuring Final Fantasy, Laura Barrett, The Blankket & others.
Carl's book is ostensibly about Celine Dion's Let's Talk About Love album. But that's sort of like saying that a knock-knock joke is about the knock at the door. It's a book about taste - where it comes from, what it says about us, and how it keeps us isolated from each other. It touches on kitsch, chanson, Hurricane Katrina, the avant-garde, Elliott Smith, Quebec sovereignty, Las Vegas, mass art, and in the book's most heartbreaking moment, Buddy Holly. It is concerned with aesthetics, identity, and the role music (and music criticism) plays in our lives. It is only about 150 pages long but it is packed so full of insight, of ideas & wit & play & rigourous thinking, that it'll sustain weeks, months of thinking. It's also really fucking funny. But most of all, and the thing that made me certain that we ought to write about it here -- it is a book that is tender, beautiful and unexpectedly poetic; a book concerned above all with the human condition, and all us wanderering wanderers. A treatise on aesthetics cut through (like a hot knife) with the deeply personal. Let's Talk About Love was perhaps the best book I read in 2007.
The Beatles - "You've Got To Hide Your Love Away".
In 2000 I was 18 and my friends would joke that I didn't own any music that wasn't sad. I'd laugh and put on Bright Eyes' "Padraic My Prince" ("I had a brother once / he drowned in a bathtub / before he ever learned how to ta-a-a-alk"), enjoying the archetype. My pet artists were (and largely still are) Nick Drake, Radiohead, Belle & Sebastian, and maybe Neutral Milk Hotel. I liked more than anything the bittersweet first disc of The Beatles' Anthology II.
I could document this in more detail, transcribe some of the mixes I made (almost all of sad songs). But what I'd rather reflect on today is what this impulse meant. What did it say about that boy (and what does it maybe say about me today)?
That I was a melancholy kid? I guess. I had spent most of high-school in an unreciprocated crush, carrying it with me wherever I went, wallowing in the "hopeless" part of romance. But my peers were just as love-sick, just as pubescent (& for the most part, just as single). And they weren't (often) in their bedrooms listening to "You've Got to Hide Your Love Away" on repeat. My home life was great, my school-life fine. I wasn't bullied or abused, had lots of friends and extra-curricular activities. I can't have been any more sad than others around me. So why did I want to be the one who listens to sad songs. Why was I attacted to that aesthetic?
Some answers can be found in the way I viewed the alternatives. I remember ranting about "angry music" - to me it was "mean", "stupid" or just "immature". These aesthetic judgements are way more loaded and arbitrary than I realised at the time. (I'm not just talking about the now-stale argument over instrumental virtuosity.) Were Limp Bizkit or Blink-182 really "mean", other than to the assholes who abused them? Was Rage Against the Machine's shouting really less "mature" than Stuart Murdoch's wallflower ballads? And are Kurt Cobain's insights any dumber than Thom Yorke's?
Thinking about it today, I read my impulses differently. I valued introverted music over extroverted music - self-reflection over activism. Never songs that compelled one to action (let alone to dance): instead, passivity, meditation, sorrowful stasis. There's something almost antisocial in a lot of sad songs. My desire to be grown up didn't manifest in a curiosity about sex & drugs, let alone the messy, frustrating stuff of actual adult life. Instead I wanted to be "literary", "serious" - to dwell in a chaste, almost bloodless world, rich in metaphor, some place gentle as a lukewarm bowl of porridge. The music I listened to was never "frivolous". It might be whimsical, or absurd, but never frivolous. The figure I wanted to embody - the adult I wanted to become, - didn't have that much room for "fun". Artists are tortured, wretched figures -- right?
And at that age I didn't even consider music whose essence is in the expression of joy. Pop music - so "unsubtle"! Happiness, so "fake"! Carl talks about this in much greater detail, but it was certainly true for me then (and to a much lesser extent is still true for me now). I thought bliss was a thinner feeling than misery; that happiness was more banal than melancholy.
I'm different today. My favourite albums, my favourite songs, are a far more disparate crew. But themes, traces, clues remain - and they're often writ large. There's nothing wrong with this, with having a taste. Okay, so it's arbitrary to value melancholy over glee - but I can still make that choice, still be made through nature or nurture to prefer one to the other.
What's important is to be press at the edges of one's taste, to push further out - to be conscious of the blind-spots and to try to discover new pleasures. To steal Dan's metaphor - to kick at the cracks in your wall. There is nothing noble in melancholy, but more importantly still there's something lost when you cover up parts of your heart. When you listen to only the bluest beat. Late in Let's Talk About Love, Carl quotes a beautiful line by Saul Bellow:
Everybody knows there is no fineness or accuracy of suppression; if you hold down one thing, you hold down the adjoining.
They're such wise words - but not just for what they make explicit. There's a secret in the flick and flow of the language. "The adjoining," Bellow writes, and what he means is the whole wide world. "The adjoining," he writes, and it's the sound of kissing the unknown.
---
[buy Carl Wilson's Let's Talk About Love]
Posted by Sean at January 8, 2008 1:09 AM