Always Open To "Never Again"
Please note: MP3s are only kept online for a short time, and if this entry is from more than a couple of weeks ago, the music probably won't be available to download any more.
I told you to listen to this, didn't I? Well, I know you all ignored that, I know you were too busy walking quickly and carrying your very important papers. But you can't ignore this. This track is in a kind of scaremongering hysteria, it's circled by crazy-eyed kids stamping their feet and saying ha! and rolling their tongues. This track isn't fun, it's gnashing, thrashing, and hot. The sweat just drips off and down, leaving a black puddle on the black ground. The rest of the album feels like filler compared to this. [Buy]
--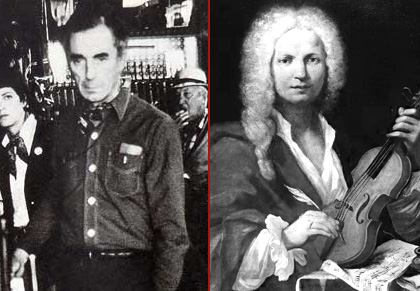 Antonio Vivaldi - "Concerto RV 425 for Mandolin I. Allegro"
Children Eating Birds - "Is That?"
Michelangelo Antonioni died on Monday. I realized that all my life I had been confusing him with Antonio Vivaldi, the two had become conflated in my mind. They're not related, they're not the same, they really only share three phonemes, and a country of origin. Antonio is full of flourish, constantly playing notes, where Antonioni is a lighter touch, one note sustaining, like a gaze, fixated. From what I can find, he sounds, his films sound, as if the images could be musical, more like Children Eating Birds. I should have known just from their musical differences (once converted) that they were not the same, but I only realize now. So instead I'll let them live on in my mind as one; an artist of densely layered compositions or often simple lines, inventing new devices while often using classical devices turned starkly on their head.
Posted by Dan at August 2, 2007 2:45 AM