AMBULANCE SHOW REVIEWS
Please note: MP3s are only kept online for a short time, and if this entry is from more than a couple of weeks ago, the music probably won't be available to download any more.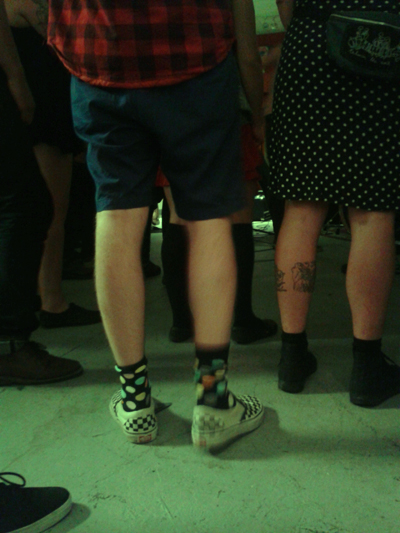 Propagandhi - ". . . And We Thought That Nation States Were a Bad Idea" [buy]
1. (1996)
In 1996 I was at the height of my anti-moshing phase, later abandoned, and so at most shows I usually stood unmoving, wearing a backpack with my arms crossed. Propagandhi were still a pop-punk band on Fat Wreck Chords then. I loved Less Rock, More Talk and listened to it constantly that year. But they had enthusiastic fans who didn't know that the cool way to express their appreciation was by standing totally still. Instead they moshed it up in the pit in the basement of St. Joseph's Church in Sandy Hill when the band came to Ottawa. So when the paramedics showed up I assumed it was due to a pit casualty. Instead, it turned out that someone at the back was standing on a table, trying to get a better view, when they became lightheaded and fell over. Later I heard that they were okay.
Brutal Knights - "Grow Up, Throw Up" [buy]
2. (2010)
A summer punk show in a tight Bar St. Laurent 2. Feet in the air, broken ceiling tiles, lots of beer, and a huge grin on everyone's face. Then halfway through a song Brutal Knights stopped abruptly. Nick, the singer, was motionless on the floor after some crowd surfing and shenanigans up on the speaker platform. Then: "Everyone get out NOW!" Because the stage was by the front door we all had to file out past Nick and could see that his arm was going in a direction that it shouldn't. He was lying on a red lighting gel that many of us mistook for a puddle of blood. The show was over, but everyone milled around on the sidewalk until the ambulance came. Then I biked down to Casa to see White Lung play. Nick healed up fine.
High on Fire - "Brother In The Wind" [buy]
3. (2012)
The strobe lights used by the opening band Goatwhore were getting to me, but I watched their whole set mainly because the singer was such an indefatigably posi ambassador for heavy metal. "Thank you for coming out to support metal on a Tuesday night Montreal!" My vision went black and I collapsed into Mike just as High on Fire started playing. I only remember a few glimpses of him carrying me out of the crowded room at La Tulipe. I was lucky to have a friend in nursing school who was also into metal. I came to on the sidewalk outside a few minutes before the ambulance arrived. Mike came to the hospital with me. It was still dark when I was discharged. I'm fine.
(photo by Spike)

Posted by Jeff at February 17, 2015 5:02 AM