AN OPEN LETTER TO CAFE OLIMPICO
by Sean
Please note: MP3s are only kept online for a short time, and if this entry is from more than a couple of weeks ago, the music probably won't be available to download any more.
Charles Aznavour - "Yesterday When I Was Young"
Dear Café Olimpico,
I am writing this letter from under your roof. Every morning I come and sit here, and I sip a coffee like this one, and I ease into my day of triumphs, backflips, heartbreaks. You are my first stop, Olimpico. You are my social club. You are my home away from home. But there is a very serious problem.
The problem is this:

They seem like nothing, these four pretty arcs. Upside-down bowls, an inverted Christmas tree, stream rising from the espresso machine. But these curved lines mean much more than that. They mean: the internet. They mean: email, twitter, craigslist. Ten billion gigabytes of webpages, plus YouTube. We open our laptops, swipe our phones, and suddenly there is a paradise at our fingertips.
Fuck paradise! Fuck that damn paradise! Olimpico was an oasis. In the heart of hipster Mile End, a café without wi-fi, a room without facebook, a place where people sat with allongés and talked. Warm, convivial, filled with the sounds of clinking spoons, new friends, maybe sometimes a Madonna song. You think I am exaggerating? I am not exaggerating! You know I am not exaggerating!
A little while ago, it changed. One day, ping!, free wireless, wafting through the room. At first it didn't seem to matter. But slowly, slowly, like the ticking temperature of global warming...
The rare computer was always okay - some sad soul hermitted in the corner, revising a novel; a student, three lattés, and a marinating thesis. But laptops are not merely common, now - they are inevitable. They are multiplying, like LCD-lit rabbits, and with them the arrival of Arts Café refugees, Cagibi ex-pats, even tourists on day-trips from Starbucks. Getting to Olimpico at 10am, the tables are filled with silent, dead-eyed double-clickers. As it gets colder and the terrasse empties out, the problem of space becomes worse. There is nowhere to sit. There is nowhere to sit, and talk, and just do regular shit, Olimpico, and the tiny laptops' fans are sucking the life from the room.
It is not your fault. I know it's not. It's there in the name of the wireless network: B&M, your next-door neighbours, your damned neighbours, shillers of overpriced breakfast. But surely you can do something. Surely you can go over to B&M, lean on their shiny counter, and ask that they add a firewall, a customers-only password, a something. Men of Olimpico, you make a delicious cup of coffee, and you have also been such fine stewards of your space. Unlike your neighbours a block away, you know the ones, you never installed an open network. You forbade people from even plugging their laptops in! Dictatorial, philistine, almost fascist? Sure! But in this way, you kept the pixel-toting barbarians from the gates. And we were grateful.
Now, listen: I realise that I am a hypocrite. I am, after all, an emblem of all that I rail against. For three years, I have been coming to your café every day, my laptop on my back, to sit and click and clack. I am that sad soul in the corner, with headphones over ears. But I came to Olimpico because it was not filled with nerds like me. I came for my friends, who strolled in, smiling, and interrupted me, who metaphorically smashed my computer across their knees. And I came because there was no internet: no flashing distractions, just my work. Yes, I am a hypocrite; I am pleading - save me from myself.
Rescue us, champions of Café Olimpico. Before it is too late.
I am writing this letter from under your roof, and posting it, but I dream of the day when I cannot.
Sincerely,
Sean Michaels
---
Elsewhere: Brendan's hosting a wonderful house show on Saturday night, for just $5: Zsofia Zambo, Zombé Mugambe, Becky Foon, Space Ghost Cowboys, and Ramona Córdova. That last one is a very rare event.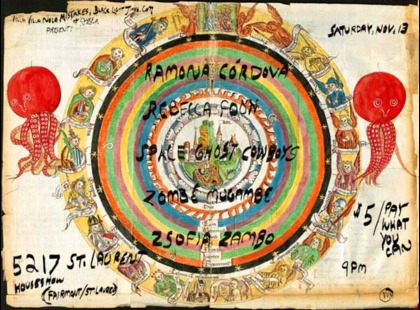 Posted by Sean at November 11, 2010 12:03 PM