AN UNEASY KNOWING
by Sean
Please note: MP3s are only kept online for a short time, and if this entry is from more than a couple of weeks ago, the music probably won't be available to download any more.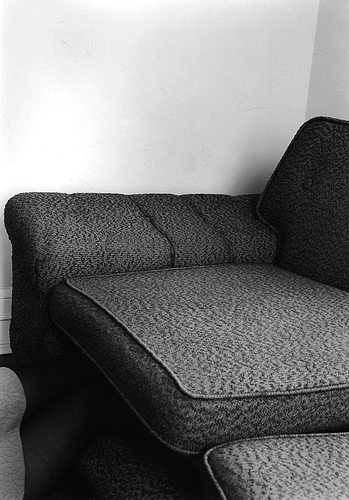 Jens Lekman - "Your Arms Around Me". (Removed at label request.) We're projectors, all of us! Such persistent projectors! The band called the Dirty Projectors has got it right: that's the stuff of artists, of memory, of all of us considering, remembering, living and retelling our lives. Dirty projections. Messy, flawed, innaccurate projections. But so help us it's all we can do. So I hear Jens Lekman's startling little song, "Your Arms Around Me", and what I write says more about me than about Jens:
And amid harp and uke and "MMmbop" guitar, Lekman tells a silly story about a guy who ends up in hospital after an avocado accident. As with much of Lekman's work, he uses the ridiculous to try and undermine the sentimental. But schlock doesn't cease to be schlock just because there's a goofy Swedish punchline wedged in, and both of Lekman's LPs are marred by maudlin excess. (His singles/rarities comp, however, is fucking amazing.) And yet despite the regrettable avocado plotline, "Your Arms Around Me" is beautifully composed, majestically arranged, and basically great. Most stirring & strange is the affection in it - the romantic chorus, the idyllic melody, - because there's such a disconnect between this and the lyrics. "What's broken can always be fixed / what's fixed will always be broken"? That last part's not a banality. Or when he wakes in the hospital bed: "You're sitting next to me reading the paper / I put your arm around me." It's a broken relationship, one half more in love than the other.

And you could explain all this by calling the narrator deluded, blind to the nature of his own love-affair. Or you could see the song as something else: a recollection. A snapshot & a story. The desire to go back to another time, to swim for a while there, and to cast it in rosy light. The doomed, daft act of revisiting a lost place and gilding it gold.
[
buy
]

Nina Nastasia and Jim White - "In the Evening". I don't think I'm still in love, these seasons later. But in the evening I sit and sometimes I realise I am wearing it again. My jacket like an awning. My love like a jacket. And every time I put it away in the wardrobe, the cedar closet, it does not stay there. I take it back out. I don't understand the syntax of what happened, of what continues to happen. What's past and what's present. The past is present. We made an end in breaking, as Nina Nastasia sings. We darkened up our home. And nothing here reminds me, but here I am, wearing that coat, looking at photographs and thinking I oughtn't, that they're such empty windows. A false light always fading. Yes. And Nina Nastasia sings with pessimism of the uneasy knowing. "A moth can live this way", she sings. So I listen not to pessimistic Nina, dark-haired and dark-eyed; I listen instead to wild, serious Jim White, perhaps my favourite living musician, as he makes a speech of optimism, change & progress; of wisdom; as he makes a speech only by hitting things with wooden sticks and metal brushes.
[buy]
---
"As the hornet enters the nest, a large mob of about five hundred honey bees surround the hornet, completely covering it and preventing it from moving, and begin quickly vibrating their flight muscles. This has the effect of raising the temperature of the honey bee mass to 47 °C (117 °F). Though the honey bees can narrowly tolerate such a temperature, it is fatal to the intruder, which can handle a maximum temperature of about 45 °C (113 °F), and is effectively baked to death by the large mass of vibrating bees."
Posted by Sean at August 22, 2007 8:12 AM