A'S MOTTO
Please note: MP3s are only kept online for a short time, and if this entry is from more than a couple of weeks ago, the music probably won't be available to download any more.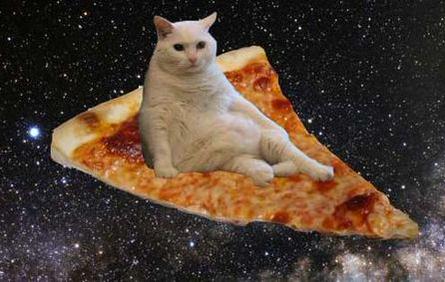 There's nothing my co-worker A loves more than free food. He often regales me with tales of meals past. One day recently, as he was heading out the door to an event, he told me "I hope it's catered. Sometimes I go to these things and they give me a big plate of food. One time I got two full plates!"
"My motto in life is don't mind if I do!" he told me another time. "When I was working at the bank we had great Christmas parties. One year, when I got to the front of the buffet line, the guy asked me if I wanted chicken or steak. I said 'Can I have both?' and he gave me both. Sure, some people shot me dirty looks, but it doesn't hurt to ask. Don't mind if I do!"
And then there was pizza. "We used to have pizza days at work once a month," he told me. "So I'd go down on my break to get a slice, then go back for more at lunch. On my way home I went back and took some leftovers for lunch the next day. Don't mind if I do!"
Posted by Jeff at July 26, 2016 4:20 PM