Assorted Creations
Please note: MP3s are only kept online for a short time, and if this entry is from more than a couple of weeks ago, the music probably won't be available to download any more.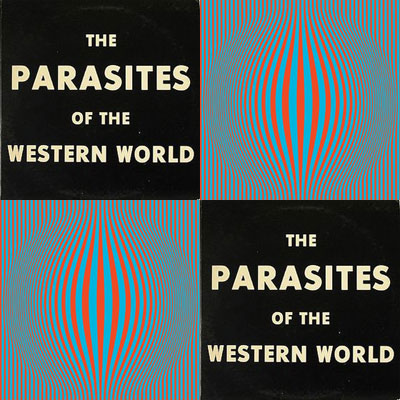 Parasites of the Western World - "Mo"
This story is a procedural. It follows all the steps that make up a comforting list of familiar benchmarks in the revelation of a set of motivations and actions. In the unfolding of the Preakness, an invisible and immovable wire had been stretched across the track, and as all the horses hit it, one by one, they were split open, and the jockeys legs were halved, bodies and flesh of all kinds strewn in the soft mud of the racetrack. Only the final two horses in the race were able to stop in time. All the interested parties were questioned, owners, spectators, track maintenance, nothing was found. Until the surviving jockeys were questioned, when Arms Japper, 2nd last place, showed himself to be a sight less distraught than Ham Niggs, last. Which piqued the interest of lead investigator Gomenesai Woods. "The order of their standings is what gave it away," said Woods, acting both as detective and crown attorney, "Second-last was not supposed to survive, only last place was supposed to make it out alive." The crowd in the courtroom hushed, the jockey tearfully confessed, the horse turned about-face and stormed out, betrayed. Sentences were handed out like flower necklaces, and Woods returned home to bed, still a failure to his wife, still a cripple and a drunk. [Buy from De Stijl records]
The Black Angels - "The Sniper"
We're only gonna hear from aliens when they need help. When the bums of the universe come callin' they're gonna be lookin' for a goddamn hand-out. Life, if you look at the numbers, is a rare thing in outer space, and it needs plenty of shit to keep itself going. Not room enough for the two of us, aliens, sorry, tough beans. [Out Today]
Posted by Dan at September 14, 2010 3:09 PM