AT FIRST FLIGHT
by Sean
Please note: MP3s are only kept online for a short time, and if this entry is from more than a couple of weeks ago, the music probably won't be available to download any more.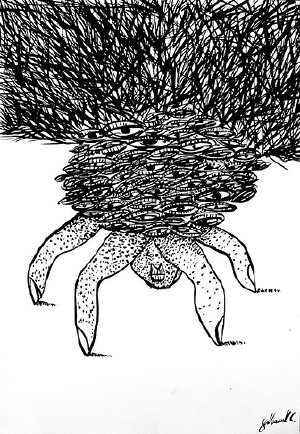 Spoon - "Don't You Evah". The first few times I listened to Spoon's new record, an album called Ga Ga Ga Ga Ga (these are, as Mike Powell has sagely pointed out, a baby's first 5 words), I thought that this song was addressed to a person called Evah. Don't you, Evah. Don't you dare. And I was very jealous of this Evah. To have a song like this dedicated to her: a song of jerk and handclap, of leap and slide. A song with a guitar solo that sounds like the electric guitar sprang up from the floor and played itself.
I stood in line with the multitudes at NYC's Port Authority, grimy white-tile & humid, waiting to leave the myriad harbour, listening to this song on my headphones and feeling the floor squeak under my shoes. It was almost one a.m. and everyone but the bootleg DVD seller looked pissed off and sweaty. We were staring at each-other bug-eyed, like children on a bus. All eyes were on eveyrbody. Me I was listening to "Don't You Evah" and panging in my heart with envy for the girl called Evah, wondering whether if I found her I could date her, and I was actually dancing there in line. I felt the urge - oh man i kinda want to dance - and then I made the conscious choice - oh fuck it i don't know anyone here - and then I began. It was a modest dance, hopefully not too obnoxious. Under scowling New Yorker scrutiny, in little movements, wrists and toes, like a man in snowshoes or like a general who's retired, like a cat on a saturday, trying to live my life through in small slip steps, to do as Britt Daniel instructs and not evah, not evah attempt to cheat death.
[buy Spoon's exemplary Ga Ga Ga Ga Ga, which reminds me more of the wit & rock of The Beatles ca. White Album and Let It Be than any album I can recall in the past 15 years]

Konie - "History/Science". A song about a guy who is going to cease his moping, forsake his carping, dismiss every distraction in favour of Learning Stuff about Stuff. He'll develop machines for playing these guitar riffs, derive formulas for selecting the snippets of archival sound, determine the optimal dance-moves for his skinny-jeaned legs. He'll run the whole thing on a grapefruit, electrodes plunged deep, a traveling rock'n'roll show that's powered by citrus.
[buy]
---
Anyone within leaping distance of Paris: La Blogothèque will host its first ever Soirée on July 30th, and it's a show that's just about worth flying across the ocean for. The lineup's not yet been made public but they are giving us short little teaser-tastes, the first of which is now online...
Blogothèque/Take-Away Shows' filmmaker of record, Vincent Moon, is also looking for recommendations of the world's most amazing music festivals. Events like Guca, Gnaoua, ATP... If you have any tips, particularly in South America or Asia, please get in touch with him.
---
Last week the art/design blog It's Nice That invited me to recommend a couple things and share some of my own work. So I talked about a zine and an artist I like, and I also wrote a short story called "FRESH FLOWERS, AND CINNAMON," or "JOEY FRIEDMAN'S GIRLFRIEND". It's about how heartbreak doesn't explain itself. (Thank you Anna, Jez and Will.)
[Ink drawing by Guilherme Kramer]
Posted by Sean at July 16, 2007 12:38 AM