ATTEMPTED REVISIONS
by Sean
Please note: MP3s are only kept online for a short time, and if this entry is from more than a couple of weeks ago, the music probably won't be available to download any more.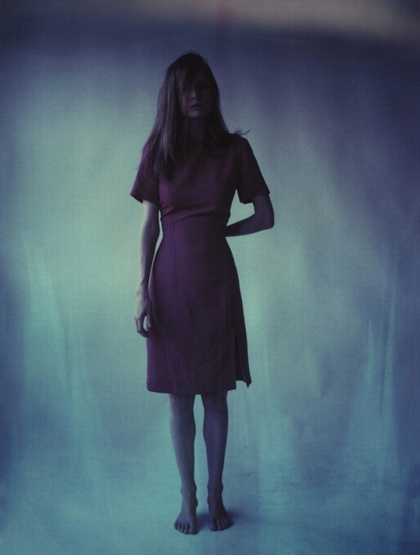 Sharon Van Etten - "One Day". A woman sits at her writing desk. There is a peregrine falcon stuffed on the wall above her. She lives beside the train station and the train roars in several times a day, fluffing the falcon's feathers. Her rooms smell of coal-smoke and imported oranges. The woman has written two sentences on her writing-paper and she sits staring at them. Dear ----, it begins, My heart is a crooked thing. Her mouth is a trim line. She has already set aside the thought that she wishes she could begin the letter, Dearest ----. That thought is locked in a wood cupboard. Now she is looking at the next line, the one about her heart. She worries that it sounds needy, or strange. When she chose the image she meant "crooked" in the way that keys are crooked, at the place where they meet a lock. She meant "crooked" in the way that a ship is crooked, asymmetical if seen in profile. She is proud of her crooked heart. She thinks it is something to fall in love with. She wonders if ---- will ever see this; if ---- will ever in fact be dear.
[Sharon Van Etten's beautiful new album, Epic, is streaming at NPR, and please, please pre-order it.]
Sun Kil Moon - "Natural Light". Mark Kozelek revisits the song by Casiotone for the Painfully Alone. It is such a light thing, insubstantial, less than two minutes long. It is the letter from far away, the short email, the Facebook message. No matter how many details, it feels scant. There is no cut of voice, no touch of eyes. You hear these words and realise you are holding on to something else & distant.
[the I'll Be There EP, with covers of Stereolab and the Jackson Five, is free with purchases of Sun Kil Moon's new album, Admiral Fell Promises]
---
Elsewhere:
One last reminder that I'm giving a reading tomorrow (Tuesday) at Drawn & Quarterly.
Tonight, the winner of the 2010 Polaris prize will be decided. Best of luck to Owen Pallett, Caribou, and particularly Radio Radio.
If you've not seen it, Mike W points me to this exquisite music video with DIY recreations of great artworks. Which doesn't really give the full impression. It's for the French band Hold Your Horses.
Posted by Sean at September 20, 2010 12:18 PM