BAN WINTER
by Sean
Please note: MP3s are only kept online for a short time, and if this entry is from more than a couple of weeks ago, the music probably won't be available to download any more.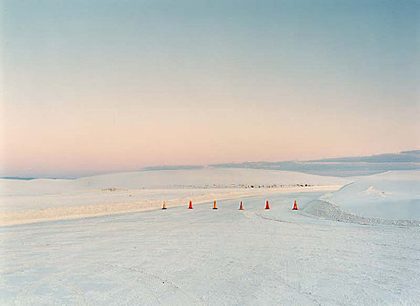 School of Seven Bells - "Face to Face on High Places". Fly to Greenland in a twin-engine plane, your pockets filled with Jolly Ranchers and freshwater pearls. Set down on a flat of snow, like the back of some vast arctic hare. Leave the propeller going & dig. Put your back into it. Yes, the Northern Lights seethe, yes there's much to explore in Nuuk & Kangerlussuaq. But dig. After two long winters it's time to dig. The airplane's roaring beside you, the sky teeming above you, the sting of sweat in your eyes. But sooner or later you'll hit spring.
School of Seven Bells play a music that is intermittently, vastly splendid. Like the Knife dredged in honey.
I don't think this song has anything to do with High Places, but you know it might.
[MySpace]
---
Smothered in Hugs - "Blank Test". Black bears in the forest, playing a rock song. Boulders in an avalanche, playing a rock song. 16-year-old best friends at the airport, hiding in the Duty Free, waiting to leave on a 2-week exchange in France... playing a rock song. There are a lot of ways to hear this great song by a band with an abysmal name. But none of these ways involve me imagining some dudes in Prince Edward Island, shining out a hit while ankle-deep in red dirt. I can't figure out if this song is more influenced by the National, the Everly Brothers or Better Than Ezra, & that's all kind of good thing.
---
Montrealers should come out to this week's M60 Film Festival screenings - on either Wednesday or Thursday - to see a cavalcade of teeny-tiny short films, by everyone from amateurs to an Oscar winner, and featuring films by Dan and myself (not to mention Anna McGarrigle!). Do come early or buy tickets in advance!
Posted by Sean at September 22, 2008 11:05 AM