BANGINGS
by Sean
Please note: MP3s are only kept online for a short time, and if this entry is from more than a couple of weeks ago, the music probably won't be available to download any more.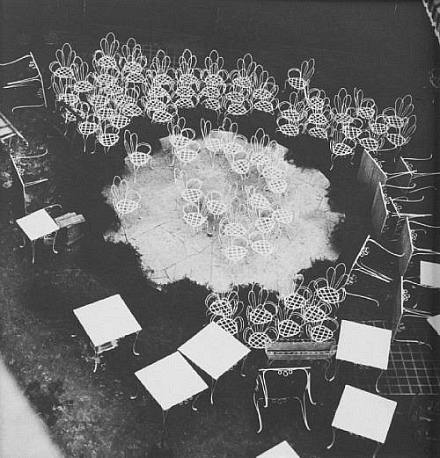 Neal Morgan - "Fathers Day". Sometimes you hear a song and you go: oh shit i need to buy this. Other times, like this time, you hear a song and go: oh shit i need to buy this and also i need to buy a drumkit. I went to Neal Morgan's website, clicked BLUE AUDIOPHILE LIMITED LP w/ mp3 because I am a sucker for limited edition things by artists that make the top of my head fly off, skimming out across the room to hit the painting over the lamp. After I had ordered Neal's record I went to ebay.ca and did a search for sweet drumkit and then clicked Buy It Now and ordered a vintage GRETSCH orange drumkit 60s, and three weeks later it arrived.
I set up the Gretsch drumkit on a rug in my living-room, beside the painting and the lamp and the top of my head. The reds and blacks in the rug worked well with the orange of the drums. I keep drumsticks in a beautiful chest and so I took the sticks out of the chest, smoothing the velvet with the back of my hand. I raised the drumstool until it was perfect and then I sat down. I raised the drumsticks. I hit the drums. I racketed and blitzed. I was remembering the way Neal Morgan coos and hoos and bloos, like a red and black bird. I was remembering the way he hits his cowbell, like he is rattling a golden egg. As I played the drums, I stood up and sat down. I rocked back and forth. I farted and died. I came back to life with a clear blue look in my eyes, the look of a lover or a killer, someone who is going to stroll into someone else's memories and point at the person who will cause them harm and say, into the camera of the rememberer's mind's eye, This person will do you harm, and then pull out a knife. That's the look I had, which is a complicated look, and not one you forget.
[you may have seen Neal Morgan on tour with Bill Callahan or as part of Joanna Newsom's band / holy shit, right? / buy]
(photograph by Horst P Horst
Posted by Sean at January 9, 2012 10:37 AM