BARRELIN'
by Sean
Please note: MP3s are only kept online for a short time, and if this entry is from more than a couple of weeks ago, the music probably won't be available to download any more.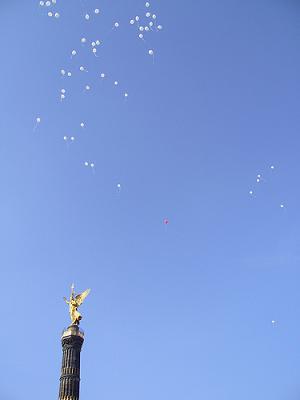 There are few things sweeter than projects of love (and few things sourer than projects of spite). Friends Jan Junker and Sebastian Hoffmann have now released two compilations in a series called Berlin Songs, documenting indie, lofi and folk musicians that have passed through their mostly-home of Berlin. I've heard the second disc, just released, and Berlin Songs vol. 2 is a really charming collection; all sorts of messy, dusty, beautiful songs, modest and easy to love. Most are by unknown artists, but there are several names (Andre Herman-Dune, Wave Pictures, Jeffrey Lewis) that will be familiar to lofi- or gramophone-followers.
Ish Marquez - "The Ballad of Jan and Simone". It's like this song starts with a different song - a few licks of acoustic angst, and then... ahhh. Ish Marquez begins to sing and instantly it's like that first summer Friday; boy and girl, shaker shaking, Stanley Brinks' alcoholic electric guitar. Ish's voice is wide and generous, and there's something unpredictable in it; the loose, mild madness that colours Devendra Banhart's best singing, or even Sam Cooke's. Sometimes without meaning to, his heart tinges his vocals a deeper shade of cherry. Clemence Freschard (who appears all over this comp) is the opposite: careful, careful, singing husky and listening to every single syllable of her partner. Making sure she moves her lips only when he moves his. (Under the kitchen table she air guitar's the solo, and no one notices, not even her.)
Coming Soon & Friends - "This Star Is Mine". Said the Gramophone's favourite troupe of French teenagers (plus adults), Coming Soon are here joined by a second sax player and Mlle Freschard. But instead of the band's typical garage pop, "This Star Is Mine" is a ballad in dusky shades. "This star is mine," Howard Hughes intones, like the narrator at an old planetarium. Everyone's pressed deep into their red velvet chairs, staring at the sky. There are art deco swoops over the entrances. It's eleven in the morning but any second now, they'll see the night sky. Any second the mechanical sun will set.
They don't hold their breath. They just sing softly to each other. "In between seasons / in between seasons / in between seasons." They'll keep their tickets until the dusk they die.
[buy Berlin Songs vol. 2/Ish Marquez's MySpace/Coming Soon things]
[Berlin photo by ninnx]
Posted by Sean at November 20, 2007 8:30 AM