Be Stripes, Be Stars
Please note: MP3s are only kept online for a short time, and if this entry is from more than a couple of weeks ago, the music probably won't be available to download any more.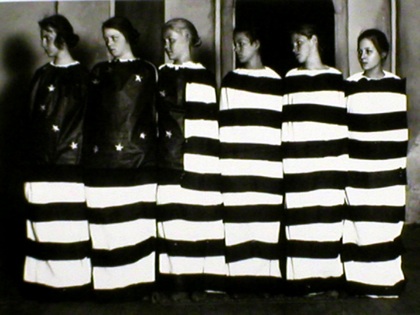 In the quiet dust of the backyard, a girl, 11, comes crying up to her brother, 8.
"I'm running away. You can come if you want." She storms off, her sandals kicking up dust and her hair coming out of its ponytail. He rises quickly and follows her.
"What? You're doing what?"
"I'm running away."
"Where?"
"I don't care. I'll take East Road until it leads somewhere. Anywhere is better than here."
"The roads are covered in mines."
"I can see them, where they rise. I am not heavy enough to set them off."
"It's three days walk to anywhere. Where will you sleep?"
"On the road. To the side."
"You'll be killed by bandits. They will touch you and kill you."
"I'll shoot them. I have my Kauser."
"That's not how bandits are. You can shoot one, sure, but there are always more, they make sure of that."
"Well, then you should come with me."
"But I am not the one who wants to run away!"
"Well, I'll go by myself then."
"Please stay."
"Never. You are too young, you don't understand."
"Dasin is playing guitar tonight. At least stay tonight for that. You can run away tomorrow."
"No. I told you, I hate it."
"We will sit under the stars and look up at the stars and tell their stories. Remember Half-Little and Big-Little? How they tricked Gargantua into thinking they were a fortress, draped in a silver cloak? Remember how I buried you in sand and it was your cloak? Stay for the guitar."
They had reached the edge of town, a trail of dust behind them and the gates to East Road ahead. She stopped and dropped her backpack, pink and dusty, and then fell to the ground herself, sat up and started to cry.
Posted by Dan at February 12, 2010 11:39 AM