BLUE BLUE ELECTRIC BLUE
by Sean
Please note: MP3s are only kept online for a short time, and if this entry is from more than a couple of weeks ago, the music probably won't be available to download any more.
David Bowie - "Sound + Vision". We lived on a deep island, so we made deep boats. Just a deserted dot in the middle of the Atlantic, sandy and palmed, one albatross-flight from an oil rig. One big rock, a hole beside it - a stepladder that led down to a slide, a slide that led to a spiral staircase, and then a series of escalators and elevators, each curling deeper into the ground, where we lived and played and held dance parties. We called the island El Magnifico, because it was magnificent; the El stood for Little. It was the deepest island in the entire world. I lived with my wife, the most beautiful woman in the world, and her two children, from a previous marriage. I taught them the foxtrot and blackbottom. I taught them morse code and semaphore. I treated them as my own kids, growing up on El Magnifico.
Yes, we had boats: deep, deep boats. Boats like glaciers. From the surface of the sea, they seemed like little trawlers, tugs. From underwater - upside-down skyscrapers, plunging. We made them using the steel we dug up as we burrowed into El Magnifico. We filled with boats' interiors with mirrors and flashing lights, with clean new kitchen suites and private bedrooms. The idea was that we could give them away to famous rock stars. I wanted to meet Mick and John and Dave and Iggy, wanted to introduce them to my gorgeous wife and our kids. Since it is difficult to attract the attention of rock-stars, to get their managers' to return telephone calls, we built these boats. Deep boats. Then we assembled little promotional packages, folders filled with photos, sent these to the agents. We waited. One day, David Bowie arrived in a helicopter. He had one blue eye and one silver eye. He had red hair. He wore a shiny green polyester suit and carried a saxophone. He was very friendly. He sat with us beside El Magnifico's big rock before we went underground. I remember thinking that his English accent sounded so good that it seemed fake.
"So what gave you the idea for these boats?" he asked me.
"I wanted to meet people like you," I said.
"Yes but why these deep boats?"
I shrugged. "You never see them."
He nodded with a frowny face that said that sounds reasonable.
"What gave you the idea for the riff in 'Sound + Vision'?" I asked.
"The macaw," he said.
"The macaw?"
David Bowie took his wallet out of a pocket in his shiny green suit. Inside the wallet was a folded magazine photograph. He smoothed the creases on his knee. It looked like this: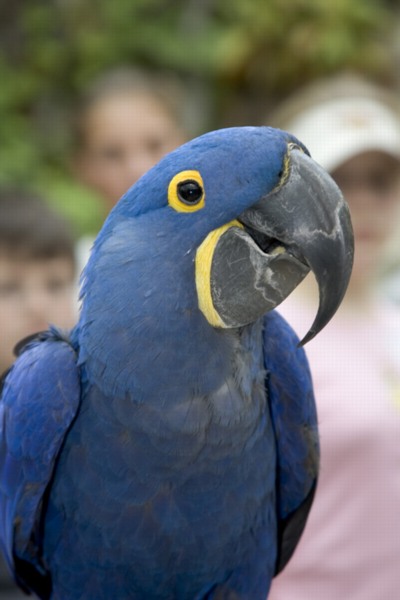 [buy Low]
===========
Oh jeez this is getting last minute but things ran away from me. In one week and one day, it is the fight night of SAPPYFEST SIX. This is a music festival in the tiny town of Sackville, New Brunswick, toward the northeast corner of North America. It happens to be one of the greatest festivals in the entire world. It is a festival of vast hearts and beautiful sounds, curated by steady, dedicated hands. One big stage, a few very small ones. Moments for great softness as well as rock'n'roll. A sense of community and shared purpose. Also: great slogans. In 2009, the slogan was A FIRE STORM FROM THE 5TH DIMENSION. In 2010, the slogan was SWAMP MAGIC. This year, it's WITH OR WITHOUT YOU.
This will be my third year attending the festival, where I write SAPPY TIMES, a daily journal that is distributed around town. (For a sense of Sappy, read previous years' editions: 2009 / 2010.) I will also be reading at the zine fair. But mostly I will be going to feel feelings, to see swans, to high-five friends. To listen to music from a remarkable line-up, the best line-up I have seen of any Canadian festival this year, probably the festival's best-ever.
Here are some of the names, in descending order of my excitement: Sandro Perri, The Weakerthans' John K Samson, Shotgun Jimmie, Nat Baldwin, Owen Pallett & les Mouches, Charles Bradley, Julie Doiron, Pat Jordache, Greg MacPherson, Snailhouse, Little Scream, Grimes, Bonjay, Hidden Words, Ladyhawk, Chad VanGaalen, Jim Bryson, Jennifer Castle, Hooded Fang, GOBBLE GOBBLE, Burning Hell, Drumheller, the Sadies, Pat LePoidevin, the Acorn and the Mekons' Jon Langford. Plus a dozen more that I've never heard of - and yes oh shit yes this is one of those festivals where you fall in love with strangers.
But listen, Sappyfest is soon. July 29-31, 2011.
So I'd like to give away one pair of tickets really fast.
Are you thinking of going? You should go. Make a roadtrip. Book a room at one of Sackville's university dorms. Or bring a tent. It is the best place to be. (I really mean this.)
Tickets normally cost $99.99. We're giving a pair away for free. But only quickly.
You have until Saturday noon EST - yes that's about 48 hours - to enter. To enter, you must leave a comment on this post. In your comment, suggest a name for a ship that could set sail from El Magnifico. Yes, it is a silly contest.
I'll choose my favourite and be in touch on Saturday. So you have time to make your Sappyfest plans. Maybe we could meet for a milkshake at Mel's. I hope you'll come.
Posted by Sean at July 21, 2011 9:53 AM