BLUEBERRY CHILL
by Sean
Please note: MP3s are only kept online for a short time, and if this entry is from more than a couple of weeks ago, the music probably won't be available to download any more.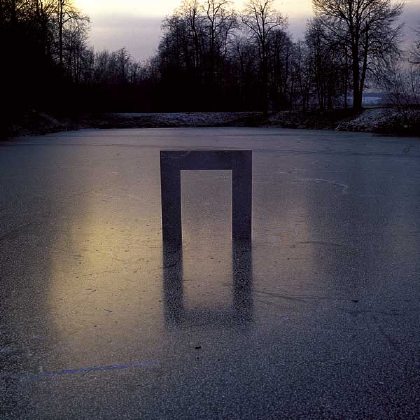 Mount Eerie - "Between Two Mysteries" (removed at publicist's request). Mount Eerie's thrilling and exhausting new record, Wind's Poem, expands on the idea of "black wooden", from last year's Black Wooden Ceiling Opening. Black wooden is like black metal, but instead of roaring throaty death-voice, Phil Elvrum murmurs. The guitars distort, fuzz and howl but there is an inherent gentleness. This works for me: this kindly noise. It is how I feel on the days when I thunderstorm. And yet - yet - yet "Between Two Mysteries" is not this. It is not black wooden. Elverum explores other sounds on Wind's Poem, particularly marimba and synthesizer. Here he mixes this eerie, smiling bone sound with the theme from Twin Peaks (literally, explicitly). The first time those chords came wobbling out of my headphones I was chilled to the core, froze on the path I was walking, but knew not why. I recovered, mostly. But I still remember the feeling. This is what this song is about - always remembering the feeling. [Wind's Poem will be released August 18 by PW Elverum & Son]
Passion Pit - "The Reeling (Black Dominoes live wire remix)". There are more than 10,000 kinds of wood. Oak, pine, beech, chestnut, cherry, poplar, mahogany; basswood, parota, walnut, blue gum, desert ironwood; wenge, cyprus, camphor, chakte-kok. In tree time, wood was always recently alive. You can make a boat out of wood; you can make a sail. You make a crown, a jacket, a mirror. You can make a dancefloor, a chest, a heart. You cannot make a darkness out of wood. Wood is a presence. I say all this because this Black Dominoes remix of Passion Pit makes me imagine a dancefloor in silver and black, cold faces and short dresses, gleaming eyes and fingertips - but bbbut bbbbbbut made of wood. These things may look glossy, impenetrable, dead - but here in this song they were recently alive. They are present and good. No part of this song is soulless. Black Dominoes have put the heartbeat back into the heart, the mystery back into the swing, the longing into Michael Angelakos's sneering voice. [Black Dominoes MySpace / if you like this song, vote for Black Dominoes to send him to Lollapalooza]
---
Elsewhere:
Particularly in the final months of Plan B magazine (RIP), the writer/editor known only as kicking_k was one of my favourite components. Here, kick reviews the last days of one of the world's best music magazines, with wit and verve.
In one of his Ill Doctrine videos, Jay Smooth inevitably offers one of the most thoughtful comments on Michael Jackson. I admire his empathy, but also his clear-eyed view to the future of us, out here, watching.
Montrealers - Montreal Improv is holding a contest to win tickets to an upcoming Upright Citizens' Brigade show. It will be very, very good - go enter.
[photo by Francisco Infante-Arana & Nonna Gorunova, via just three things]
Posted by Sean at July 16, 2009 1:57 PM