CATFISH
Please note: MP3s are only kept online for a short time, and if this entry is from more than a couple of weeks ago, the music probably won't be available to download any more.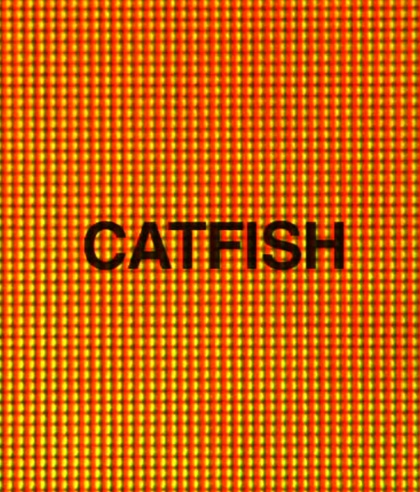 PLAY
It's not often that we at Said the Gramophone talk about film. It's happened before, in our own way, but with Catfish it's a different situation. I have been a long-time supporter of the work of Henry Joost, and Catfish is his first feature film with two of his partners. You've probably seen it advertised in your local weekly, or maybe in the metro, or possibly online. But this is their first feature, and Universal Pictures picked it right up fresh from Sundance. And deservedly so, it's a brilliant film.
It's hard to write about Catfish at all because of the way it's marketed. It has that experiential quality (it must first be seen before it can be discussed) that is garnering it comparisons to Hitchcock. The tagline is "don't let anyone tell you what it is", and I certainly won't, but I will tell you to see it. And I will discuss it in the vaguest-yet-most-enticing way I can think of.
First, a synopsis: Catfish is a documentary about Nēv Schulman, a photographer in NYC who has a friendship with 8-year-old Abby, a painter in Michigan. Through Facebook, Nēv connects to Abby's whole family, including her very attractive older sister Megan. The documentary quickly shifts perspective to the burgeoning romance between Nēv and Megan. And from there, things get crazy.
Now, what I want to talk about, and what I have not seen in any reviews I've read, is that Catfish is a marvelous examination of personal manipulation. Catfish is entirely a film about control. Control of your own identity, control over your heart, and in a totally exciting way, control over the very film you're watching. It's made by three friends, two of whom are brothers, but the film's opening exchange is "Do you want to be in this film or not?" which comes from behind the camera, and then in response, Nēv: "No!" and laughs. And from that point on comes a stream of the most personal moments of a very current-feeling relationship. Nēv is constantly baring his heart, and showing the weaknesses and embarrassments that come with the growing pains of meeting someone online. And just when you think Nēv is going to be pushed along the whole way, cowed into being made a film out of, he suddenly takes control of the entire film, of the crew who are his friends, and the film shifts gears. And then another person takes control, and then another, and another.
It's built expertly, the pristine structure of a masterful thriller, but I wouldn't compare it to Hitchcock so much as I would put it right alongside Errol Morris' early work The Thin Blue Line. It's a documentary that utilizes genre elements to enhance its story, but is still very much, and thankfully so, a Documentary.
To Henry, and Ariel, and Nēv, congratulations on an amazing work, and I know that this is still only the beginning.
[Catfish official site]
[Catfish on Facebook]
BONUS:
The track you heard at the top is from the Mark Mothersbaugh score of the film, the track was given to us specially by Henry, and it's perfect; at once epic and tiny, it's both love-excitement and danger-excitement.
But in addition to the score, Catfish uses songs as well, two of which were found from reading Said the Gramophone, so in the spirit of fearlessly facing one's own foibles, the original paragraphs are included.
by Dan, from Nov 2007:
Opium Flirt - "Saint European King Days". I got an email with the subject line "new music from Estonia". As if the whole country had just finished catching up on old unreturned phone calls and raked the leaves and put on a sweater and had finally gotten around to making some more music. If this is in fact the case (I see no reason why it isn't) then I congratulate them. Still no words to say, they've written a warm wooly walk in the park, where green has become brown and grey, and the roads are getting harder, whiter. Opium Flirt have written a national treat, a crisp smile for the afternoon, for the world. [Buy for 185 EEK]
by Sean, from Mar 2007:
The Hidden Cameras - "Learning the Lie". With "Learning the Lie", The Hidden Cameras propose a hypothesis: The Velvet Underground, at their best, may be emulated by just mumbo-jumbo mumble-wacka-wacka'ing the lyrics. "Mumbo-jumbo mumble-wacka-wacka" is a phrase of my own creation, an attempt to formalise the bullshit Joel Gibb gets up to here. He's just tootling away, singing nothing at all, smirking in the confidence of his caricature. And I kinda want to sock him in the mouth for thinking that he can get away with this. A slouching guitar-line, a dented violin, forward-leaning drums: this is all you need to pretend to be The Velvets? He's "hilariously mistaken". But as I stride towards him, sleeve rolled up, cheeks sucked in so I look something like a death's-head Popeye, he gets me. Joel gets me. The swing's in my step and I can't shake it out, the hook's in my ears and I can't get them clear, I'm singing along and I can't help myself. "Ooo-do-do-doo doo, haw-aw oo-doo doo doo!" I feel like a square so I lean up against a building, put hands in pockets, wait for the man. Tap my foot and grin like a damn fool. [buy Awoo]
--
Comments on the film are so so encouraged (no spoilers, obv) in the comments section, we can discuss anything, from Nēv's wonderful smile, to how Henry (though he speaks rarely in Catfish) has the most important line in the whole movie.
Posted by Dan at September 24, 2010 1:00 PM