CHESTNUTS, ROASTING
by Sean
Please note: MP3s are only kept online for a short time, and if this entry is from more than a couple of weeks ago, the music probably won't be available to download any more.
Merry Christmas to all those who are so celebrating. & Happy Christmas if you live in the UK, because that's what they say instead.
I don't have any festive music for you today; just music for slow-moving afternoons, which is the way my Christmas usually passes. I hope somewhere out there there are some humbugs, jews and travellers in a similar boat: slide around the floors with me, socks on.
Shearwater - "If You Stay Sober". A lovely lop-sided song from Shearwater's first album, from the band's first winter. From when the narrator's me-and-you was an easy thing, able to wash away the memory of dark times: "two days in '95" when he "wanted to die". With swing of drums and guitar, Jonathan Meiburg singing like he's swaying from a star, then a fiddle to underline the heaven come to earth - the way joy does sometimes just appear. [buy]
Christine Fellows - "Paper Anniversary". Tomorrow will be a post about death so today let's let it be about love. (Easier said than done. But seriously, wait, let's stay in the parentheses; it's easier here. And on "Paper Anniversary", Christine makes true love sound simple as punch, no harder than piano keys struck-and-echoing, a wheezy out-of-key organ, a statement of the things that Simply Are: "There's no better time than the second time, of anything, with you." It's a song that jolts with sentiment strongly felt, that jumps with the gladness of a moment shared. It's a yay.
[buy])
---
Amy at Shake Your Fist's best songs of 2006 has lots of very great things.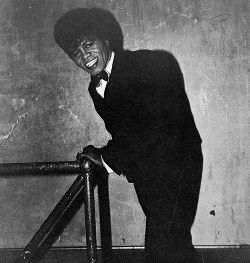 RIP James Brown. [photo (c) diane arbus]
Posted by Sean at December 25, 2006 9:22 AM