chicken soup for the paleolithic teen's soul
Please note: MP3s are only kept online for a short time, and if this entry is from more than a couple of weeks ago, the music probably won't be available to download any more.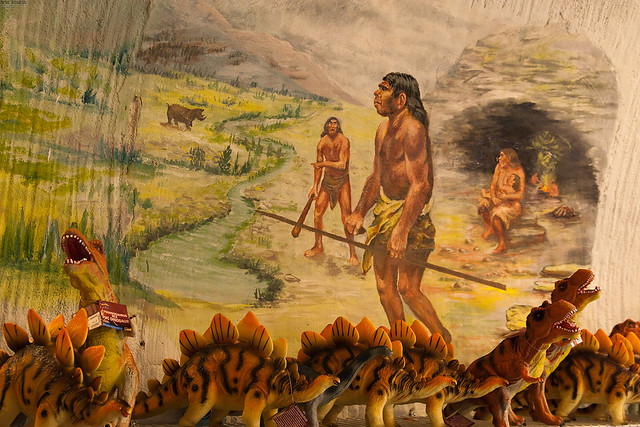 Pheromoans - "Trusthouse Blues" [buy]
Cave - "Ravens Hash" [buy]
Nanimal - "Mother Father" [buy]
"Oh man! It's so cold today! Never ending winter is killing my vibe!" It was 685944 years ago today, Uggo said it to his friend Roko, who was still asleep over by the leftover wild boar corpse they hunted and ate last night. "That was such a feast! Well done! no pun intended, hahah." Roko was still sleeping but Uggo laughed alone anyways, which woke Roko up. "Did you like the Kale salad I made? Did you like it? Apparently, it's good if you make it crispy. Everyone in my cave is into it. I'm thinking about adding dairy and gluten into my diet. What do you think? Anyway, get up! We have to get going!" It was already late afternoon, Uggo and Roko, who were in their mid teens, had told their parents that they were going hunting a couple of days ago, but they were actually just going to this music event called, Mammoth festival. Roko's cousin organized it and Roko asked for a V.I.P.(very important paleolithic) pass, but he didn't get a reply so Uggo had to ask for one from his friend's band, Primal Skream, who were playing the fest, for guestlist spots. He sent a smoke signal asking for guestlist, but he also didn't get a reply. So they were not sure if they would get in, but they didn't want to miss the chance to see their favorite drum circle group, Dinasour Sr, reuniting. "Dude! I can't wait to see them hit the drums! Apparently, they are super loud even though their are only three members!" They only had about 63 more days of walking ahead to get to the Mammoth fest. "Oh man, I'm so excited!" Uggo said as he walked proudly decked out in his new mammoth skin jacket made by a local designer, which he had traded for with an artisan spear that he had crafted from saber tooth tiger canines, and teak.
They walked and walked and were getting close when, Uggo pointed at the sky with a look in his face like he saw a T-rex. "Oh shxt....do you see that smoke?!" Uggo asked Roko. "I think it's my friend, Bobu from Primal Skream......"
They both realized at the same time the smoke signal saying, "Sorry dudes, we don't have any more spots left......."
".................Mammoth fest is so full of lame people anyways."
"Ya true, kids these days, they just go to party. they don't appreciate real musicians, fxck them."
"I'm gonna send another smoke signal to my friends to find out where the after party is before it gets dark."
Posted by Mitz at April 1, 2015 12:04 PM