CLEMENTINE SEASON
by Sean
Please note: MP3s are only kept online for a short time, and if this entry is from more than a couple of weeks ago, the music probably won't be available to download any more.
We have a new contest today. See below.
---
Bear Creek - "Without You (NYC)". So you're sure that you lost something. You spend the whole day in a daze, checking and rechecking your pockets, glancing under the sofa and your bed. You've lost something. You've lost something. You're sure of it. Something. What? You don't know.
You go on the road: cornfields, strip-malls, lakes, skyscrapers. You put a tape in the tape-deck. A tape made of rocket-fuel and hesitations. A tape made by some French kids who aren't even fifteen years old; kids who love K Records and Kimya Dawson and (i certainly hope) Herman Düne. You listen, fenceposts tickticking by, and as much as you hate to admit it - you've still not found that lost something. What was it? What was it?
And then you raise your eyes to the tape's little "you-who-you-hoo-you-who-you-hoo-who" and you feel like a dope, like a dummy. There's that thing you lost. Right there. Big as the moon.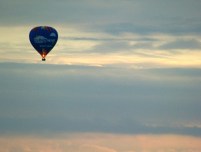 Leo is also in other bands with his friends, namely Coming Soon and Ben Lupus & the Post Romantic Vegan Werewolves.
---
Casey Dienel - "The La La La Song". Listen to Casey, here, as she sings her song and then figures out how to sing it better. Fluxblog introduced me to Dienel, and I'm so glad for it - it's such a bluebird album, eggs cracked into bowls and ice melting on the porch. It's part Mirah, part Sarah Harmer, part Regina Spektor, but really what it makes me think of is Feist's "Mushaboom". "Mushaboom" was an oddity on the Feist record, one track of jack-in-the-box indiepop on a disc of cooler things. But Wind Up Canary is thick with those feelings - the opening doors, the widening smiles, the chatter and chirp and chim-chim-cher-ee. Okay, "The La La La Song" is a bit different, it must be said. But I love so much what I wrote before - that Casey sings her song and then figures out how to sing it better. She plays the piano, singing, singing, words about peaches and clementines and regret. She sings all these words - and then she realises that the tangled-up things she's trying to say - well that bundle of moments isn't gonna come across in rhyming verses. There's a better way: just some "la's", high and reaching, and then a final one, low and sure.
La.
[buy Wind Up Canary - i promise, it's wonderful]
---
Said the Gramophone exclusive newsflash!
Akron/Family just finished two days of recording with Hamid Drake (!!!) with a view to releasing something later this year. Yes, that Hamid Drake. The jazz drummer who is Jordan's second-favourite drummer in the world; the man who I watched and wondered at in Finland. When Dana told me, my jaw hit the floor with a clang.
---
Said the Gramophone's Drawing Restraint 9 Contest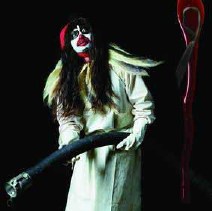 Drawing Restraint 9 is the newest film project by Matthew Barney, a visual artist/filmmaker who mixes astounding pretention with an amazing instinct for image. I saw Cremaster 3 with Dan in Montreal several years ago, and these were the things that struck us: how slow it was, ultimately dull; and how potent Barney's fantasyland was, how much the sights and sounds lingered in our minds. I remember standing on the subway platform, imagining the ribbon-knots of the maypole, the punks in the Guggenheim, the swimmingpool full of slippery alien showgirls. And Barney himself, devil-like, secreting teeth out his bum.
Drawing Restraint 9 is Barney's follow-up to the Cremaster Cycle and he's once again front-and-centre, all dressed up. It also stars Bjork. Bjork's not just a pal - she and Barney are real-life partners, and parents of a kid. Bjork acts (poses?) in the film but has also created the soundtrack (with help from people like Zeena Perkins and Will Oldham).
I've not seen Drawing Restraint 9, but I've heard bits of the weirdo sea-anemone soundtrack. Since it started screening at festivals last year, since images (and sounds) first started popping up online, I've been pretty fascinated with the whole thing. (watch the trailer)
It's with pleasure, then, that I announce a lil' Said the Gramophone-Drawing Restraint contest. The prizes are a signed poster (signed presumably by Bjork, Barney or both) and four copies of the Drawing Restraint soundtrack.
To enter the contest... you need to take a photograph. A photograph that illustrates, evokes, imagines, or somehow reminds you of the song posted above - Bear Creek's "Without You (NYC)".
Photographs (less than 1 meg in size, please) should be emailed to sean@saidthegramophone.com with the subject line BJORK/BARNEY CONTEST, or posted as a link in the comments to this post. Contest ends at 11:59 pm EST on Sunday, March 26th. Contest now over.
The winners will be the 5 photos that I most enjoy as an accompaniment to Bear Creek's "Without You (NYC)".
One photograph per entrant, please. Original photos only (please don't rip anyone off).
Posted by Sean at March 21, 2006 3:00 AM