COLD RICE
Please note: MP3s are only kept online for a short time, and if this entry is from more than a couple of weeks ago, the music probably won't be available to download any more.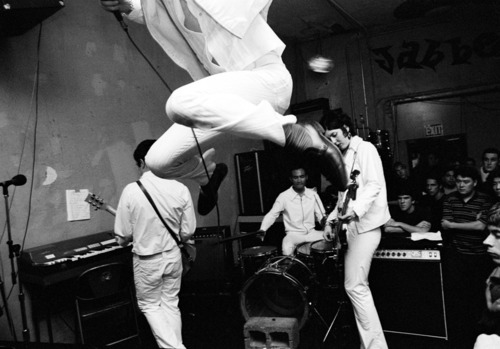 Make-Up - "Pow! to the People" [buy]
Make-Up - "How Pretty Can U Get?" [buy]
It's utterly preposterous - listen to it - a faked live record in the invented genre of "Gospel Yeah Yeah," complete with rapturous applause, cryptic banter ("This song's called 'Don't Mind the Mind' - it's made by destroying all four dimensions or maybe five"), and a short interlude between songs to introduce the players ("The soldiers of sound"). On the sleeve, in a group shot taken by photographer Glen E. Friedman, the band are shown from the waist up wearing matching silk shirts, wide belt buckles, tight pants, and giant greasy hairdos.

I bought Destination: Love - LIVE at Cold Rice!, the first LP by DC's the Make-Up with my allowance at Birdman Sound in Ottawa. I had never heard them. It was 1996, pre mp3 blogs. All I knew was it was the new Nation of Ulysses band and that the record was released by Dischord and produced by Guy Picciotto. An obvious purchase for a young Fugazi fan.
I brought it home and put it on my turntable. The music was nothing I could have expected. Under the smokescreen of mystery the band was weirdo soul garage, jangly guitars, groovy basslines, and a drummer kicking out James Brown's The One with all the passion of the Minor Threat polka beat. Then there were the shrieking vocals and wacked out lyrics of Ian Svenonius. It was a stirring message from an alternate dimension where hardcore bands mutated into pre-Summer of Love soul combos; a parallel reality where funk bands played basement shows.
For a sixteen year old it was like Woah, is this real? Do they believe this stuff? How does this exist? I tried to decrypt the liner notes but mostly I just played it again and again and again. As I hardened into a humourless hardcore kid I had to pretend for a while that I didn't, but god I loved this record.
Plastic, invented, counterfeit, these songs and performances are 3-D, more real than reality, like how reading a novelization of heartbreak feels far truer than reading about it in someone's diary. In these songs the singer goes to jail, runs away heartbroken, comes back pleading, references the Russian Revolution in a slow jam, and goes to hell to high five Orpheus. The emotions laid out in these grooves are wild, funky, and true
Listening to Cold Rice and the Make-Up's other records now, twenty years later, I still love them and I can't stop cracking up at their absurdity. It's not unlike the experience of watching Kids in the Hall sketches on Youtube in recent years and realizing 1) this is waaay weirder than I realized it was at the time, and 2) this actually changed my life.
(image source unknown)

Posted by Jeff at March 17, 2015 4:21 AM