Complete Coverage
Please note: MP3s are only kept online for a short time, and if this entry is from more than a couple of weeks ago, the music probably won't be available to download any more.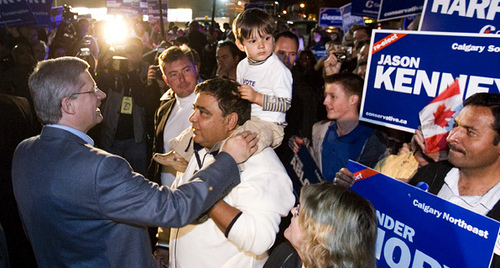 [source]
Ben Harper & Eddie Vedder - "Throw Your Arms Around Me"
Back in October of 2008, when I was just eleven years old, my parents took me and my younger brother Grayson out west in a camper van to be there in Calgary for when Stephen Harper won the election. I was such a big fan of him, I did my 5th grade speech on him, I even did my science reading report on some of his policies. I cut out every picture I saw of him, and added them to the collage I was making. We had travelled so far for that night, and we just cheered and cheered for hours. Then finally he came out, he had kids my age, and he started coming down the line shaking all the hands he could reach. And I remember I got so excited as he started getting close. My stomach felt like a pillow being fluffed, and my hands were sweaty. Grayson started screeching like I'd never seen him do before, it was kind of embarrassing. Grayson was not the Stephen Harper fan; I was. I was the one who taught Grayson everything he knew about Stephen Harper. But Suddenly Grayson acted like he was a bigger fan than I was. And as he got close, Grayson shoved his hand in his face and Stephen shook it and missed mine. Politicians don't like that, when you shove your hand in their face, they like people who are polite. What's worse he started kind of rubbing it in my face after. He said that Stephen Harper's handshake was warm, like a warm cloth, and he said his fingers sort of grazed his sleeve and that he had touched his suit. We went back to the campsite, it was getting colder and you could see your breath in the camper van. We had to share the little bed that hangs above the driver's seats, and before he went to sleep Grayson whispered to me that he got a boner when he shook Stephen Harper's hand. I didn't laugh and told him to go to sleep. But about half an hour later, I couldn't sleep I was so sad, I heard him masturbating in his sleeping bag. I fell asleep with the tears cold on my face. But in the middle of the night, Grayson woke me up and now he was crying, much more than I had been, and he said that he thought he was in love. He was probably crying because he was so young and he had never felt love in that way before.
Posted by Dan at October 17, 2008 9:17 AM