COREY HAIM
by Sean
Please note: MP3s are only kept online for a short time, and if this entry is from more than a couple of weeks ago, the music probably won't be available to download any more.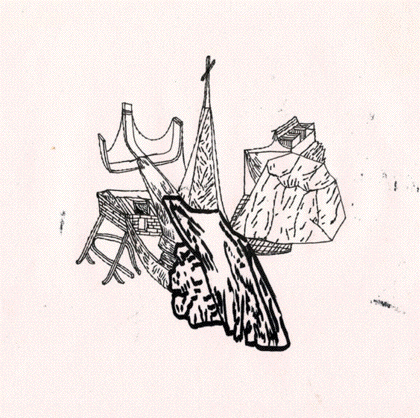 Land of Talk - "Quarry Hymns". It doesn't take much to make me fall in love. Turn your head there, there, and I'm inviting you down to the canal. But I do not fall out. I try to. I drag my feet across miles. I press my forehead to window-glass and burn everything I own. I am now 41 years old and there are 26 trails behind me, grey trails like single threads; each trail leads to a person and a pair of hands I long to hold. These threads are thin enough to break, but I have not broken them. I haul them. I feel them behind me, passing through fields, forests, shallows. One of you lives in a skyscraper now, one by a crack in the earth. Many of you are married. I do not know why I have not stopped. Or, I do; it is like trying to discard one's shadow. I look at myself in the mirror and I do not see shadings there. I see my own face. It is yesterday's face that is edged by every you.
[Tonight I realized, abruptly, that I had not written about Land of Talk's Cloak and Cipher, a record I have been listening to for many months. It is beautiful and secret. I wrote an album bio for Lizzie this spring (I can only find it here), and it was a privilege. Look at these lyrics. Please buy the album, and see them on tour now across North America (including tonight in Toronto).]
---
Elsewhere, longly:
If you live in Montreal, did you see that there is a 29-hour Twin Peaks marathon this weekend? With Lucy herself in attendance?
Did you see that Owen Pallett released a free new song? And Warpaint? And this act called Blue Water White Death, who are Shearwater's Jonathan Meiburg and Xiu Xiu's Jamie Stewart? And all of these free new songs are very good? (In the case of BWWD, it is their best.)
For Back To The World, Carl Wilson has written about going to see Roscoe Mitchell, Muhal Richard Abrams and George Lewis at the Guelph Jazz Festival. This is an important article whether or not you listen to jazz music. Because what Carl did is he went to this show and he struggled with it, and he wrote about that struggling. He is a man who does listen to jazz, free jazz, and lots of "out" music, and yet, here's the thing: that doesn't make difficult music easy. It gives you signposts, context, familiarity. Carl struggled with Roscoe/Abrams/Lewis, he enjoyed it and he didn't, and his essay on these feelings is meticulous, honest, human.
Ahead of their issue launch next week, where I'll be reading, I did an interview with Maisonneuve magazine. Gawk at my mug circa 2006. I am much more handsome now. I talked about grand gestures, breakups, Griffintown and growing up.

[drawing by Jaakko Pallasvuo]
Posted by Sean at September 16, 2010 1:29 AM