CORONAS
by Sean
Please note: MP3s are only kept online for a short time, and if this entry is from more than a couple of weeks ago, the music probably won't be available to download any more.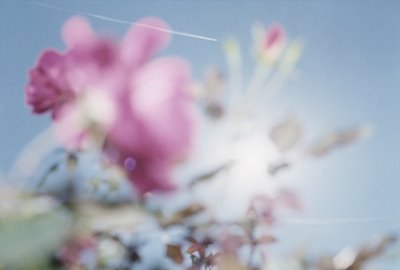 photograph by Mario Simnch
Für Amel - "Pink Eyes". It's stargazing when you stare right at the sun. You don't need a telescope or a clear night sky. You can lie on your couch and look out the window and even with a headache pounding you can come up with names for this constellation. The Blot. The Wheel. The Full Stop. There are other ways to stargaze as well. Fall on your head. Get up too fast. Bring your face up close to a glass of champagne. I think maybe Für Amel did all these things in one day: champagne, falling down, getting up, sun-staring. "Pink Eyes" has a halo - the way everything looks when you've drunk too much, fallen on your head, stared at the sun. A fuzz that seems to mean something. I think Für Amel have almost figured something out. They've collected all the blurs that look good together, flares and sunspots and the skirted edges of an eclipse. Don't stop rubbing your eyes - you're on the right track.
[Für Amel are from Montreal. This music is a love-song.]
---
Other things:
We rearranged our sidebar a week or two ago. I encourage you to explore some of those great sites, especially the ones that are new to you. Foremost among these is Five Whys, the newish project of friend (and StG graphic designer) Neale McDavitt-van Fleet. Neale's fascinated with design, ergonomics, the environment and urban issues, just like you (probably), and his posts are a joy to read - succinct, insightful and teeming with Neale's amazing curiosity. Also, he can teach you how to make your own cleaning products.
In Montreal, Thursday through Sunday, St-Laurent is again closed for a street fair. And once again, Pop Montreal is programming whole days of free outdoor concerts at Parc des Ameriques (St-Laurent and Rachel). The only difference is that this time I helped with the programming. I particularly recommend some of StreetPop's Saturday shows (Max Henry, Mussaver, My People Sleeping, Shapes and Sizes), and basically everything on Sunday, since that was the day I was in charge. Some of the city's greatest emerging music - and some feisty kids from out of town. Here's the Facebook event.

Sunday line-up:
14h00 Deleplage [Mtl]
15h00 Georgia's Teeth (aka Carl Spidla) [Mtl]
16h00 The Bitter End (improv ft. Dan Beirne) [Mtl]
16h15 Little Scream [Mtl]
17h00 very short modern dance works by Laurel Koop and Andrew Tay [Mtl]
17h15 Postcards [Mtl]
18h00 Construction and Destruction [Nova Scotia!]
19h00 Videotape [Ottawa]
20h00 Snailhouse [Mtl]
21h00 Orillia Opry (acoustic) [Mtl]

Many thanks to Pop Montreal for the invitation.
Posted by Sean at August 21, 2008 12:06 AM