CORRECT HEADING
by Sean
Please note: MP3s are only kept online for a short time, and if this entry is from more than a couple of weeks ago, the music probably won't be available to download any more.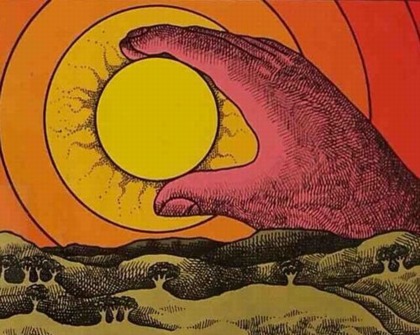 James Irwin - "Old Cars". There are fish that flicker like flames, and others that glow like bulbs, but most are not luminescent. Most are as dark as the sea. It is these fish I watch, or imagine watching, as I stand at the porthole and look. We are still moving. After all this, we are still moving. There are red lights flashing, klaxons sounding, tremors in the frame of the submarine. Saltwater drips from welded joints. I pace the corridors, tightening seals, replacing fuses. The periscope was swallowed by a whale. The larder is filled with tinned kippers, bourbon, stewed cherries. On the bridge I tap the dials with the hard tip of my finger. The needles have stilled. I am not sure if we are sinking. [James Irwin used to play with My People Sleeping / MySpace]
Onra - "The Anthem". I sting like a bumblebee, frill like a peacock, punch like a hammer, kiss like a wineglass. I am immortal and loose. I am slipping toward royalty. I am fresher than a brass plaque, I'm tight, and I know how to tune a flower. [thanks john! / buy]
---
Elsewhere:
I am grateful for evidence of time-travellers.
Tyler Martin and James Rabbit made a sloppy, overwhelmed video for their song "Candles". It's good.
Scientists have built a catapult for throwing pies at bees.
This is an exceptional mix whose title says it all: 1970s West African Psych/Funk/Highlife Mixtape.
And finally, I've made a mix for the end of October. Download it here [73:28, 105mb]. If you like this thing (above links included), you should follow me on Twitter.
image source unknown :(
Posted by Sean at October 28, 2010 11:08 AM