EXPERIMENTAL RESULTS
by Sean
Please note: MP3s are only kept online for a short time, and if this entry is from more than a couple of weeks ago, the music probably won't be available to download any more.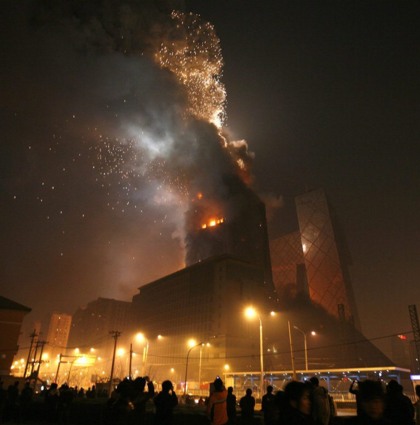 The Hoof & the Heel - "Fireworks" [video, buy].
Tragically Hip - "Fireworks" [buy].
Animal Collective - - "Fireworks" [previously, buy].
Three albums, from three different years, and the best song on each is titled "Fireworks". In every case, "Fireworks" may be the greatest song that band has ever recorded. This is too improbable to be coincidence. There are two explanations - one, that artists tend to title their best songs "Fireworks"; two, that songs titled "Fireworks" tend to be artists' best songs. I side with the second conclusion. I say there is something about fireworks that lend fireworks to songs. Just as the fizz and bang make nights into celebrations, illuminate faces in inimitable ways, so do those two words, fire and works, stuck together, transform rough tracks into radiant songs, imbue little tunes with gunpowder and phosphor.
---
Montrealers, take note - The extraordinary Rialto Theatre is reopening for concerts, beginning with a bash on June 9, led by the Luyas, one of my favourite acts in the city. Other acts include Hoof and the Heel (see above) and Avec Pas d'Casque. It will only cost an extraordinary $5. Tickets now in stores, and more info here.
Posted by Sean at May 20, 2010 12:54 PM